Commentary: In Remembrance of Rev. Clementa Pinckney
Our community united in love and found a ray of light.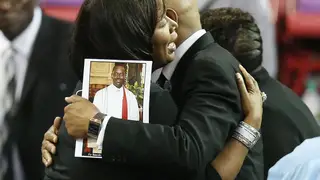 Last week, on Wednesday, June 17, 2015, Rev. Clementa Pinckney, senior pastor of the Emanuel AME Church in Charleston, S.C., was gunned down by an assassin, along with eight other members of the church. Since the devastating attack, the world has mourned along with the AME church and the city of Charleston.
So often we're left feeling powerless in the face of domestic terrorism, walking the line between sadness and rage. We're hurt by losing members of our community. And we're angered by the racism that's turned our peers into targets. Do we forgive and hope for peace? Do we march and protest? Do we seek revenge? Perhaps no right answer exists. Strategies for coping with modern-day racism and targeted violence vary greatly.
Today was different. Today, as thousands of people gathered in downtown Charleston to celebrate the life of Rev. Pinckney at his funeral, we all agreed to unite. Today we shared our support for Rev. Pinckney, the eight other victims, the Emanuel AME Church and the city of Charleston. Today we sought words of encouragement from President Obama. Today we supported each other.
The line to be admitted to Rev. Pinckney's funeral at Charleston's TD Arena began to form on Thursday night, more than 12 hours before the ceremony was set to begin. My friends and I joined the large and peaceful crowd at about 8 a.m. on Friday morning. With hopeful expectations, we waited for nearly three hours, slowly proceeding down the blocked-off city streets, while sharing warm greetings with those around us and virtually everyone who passed by.
"Good morning, everyone! How is everybody today?" A woman shouted to the crowd as she distributed cold bottles of water. "Good morning," we responded in unison.
Each of us hot and tired, we exchanged smiles and anecdotes as we stood in line. In spite of the day's somber sentiment, the positive energy was palpable.
Unfortunately, the crowd surpassed the arena's capacity of 5,000 people. So we were instructed to walk to the nearby Charleston Museum, an "overflow" location for the lucky 250 people of the thousands who remained.
"I'm so sleepy, but happy to be here," my 75-year-old seat neighbor explained. "I drove here from Atlanta last night. But when I couldn't find accommodation, I turned back and got home around midnight. I caught a flight to Charleston this morning."
As each pastor and family member spoke in honor of Rev. Pinckney, we responded with tears, cheers, songs and even laughter. Although no one in TD Arena could see or hear us, we participated as if we were there.
When President Obama reached the podium to deliver his eulogy, his fearless and emotional message matched the sentiment of his audience. We stood on our feet, sharing in his respect for Rev. Pinckney and his parishioners, proud of his recognition of the power and history of the AME Church and inspired by his call for racial justice and equality in the United States.
As Liz Alston, Emanuel AME Church member and historian, explained, "the president did such a fabulous job. It was just as good as it gets. He gave credence and recognition to everyone. He did his homework and gave reverence to Rev. Clementa."
In his eulogy, President Obama encouraged us to move forward. "[Our history] must be a manual for how to avoid repeating the mistakes of the past, how to break the cycle, a roadway toward a better world."
In spite of last week's attack, Liz Alston is now hopeful about the future. "I think these actions are going to change society," she explained. "South Carolina is all of a sudden changing her spots. I can't believe the positive aftermath of such a tragedy. I've gotten calls from all over to show support. My heart is full of gratitude and appreciation."
Today we lined up to mourn and pay our respects to the lives that were stolen at the Emanuel AME Church. Although our grief is not resolved, we watched a tragic pain turn to a powerful and positive tribute to the past, present and future.
Today we lined up to heal. Tomorrow we're empowered for action.
The opinions expressed here do not necessarily reflect those of BET Networks.
Click here for a chance to win a girls' trip to Miami!
BET National News - Keep up to date with breaking news stories from around the nation, including headlines from the hip hop and entertainment world.
(Photo: Joe Raedle/Getty Images)