Nipsey Hussle Inspired These Black Men To Start 'The Marathon Book Club'
The group meets monthly to discuss books that inspired the late rapper, such as "The Spook Who Sat By the Door."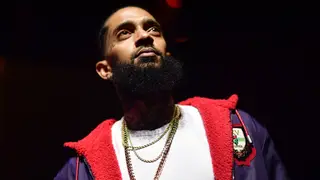 From his close friends and loved ones to his Slauson community and the general public, people from all tribes have found their own way of coping with the tragic loss of Nipsey Hussle, who was fatally shot in front his Marathon Clothing store in March 2019.
For one group of men, that meant finding solace in the words that once inspired the beloved altruist and hip-hop artist. In a new feature published in the Los Angeles Times on Sunday (Jan. 5), journalist Angel Jennings profiled the men of The Marathon Book Club, a recently founded group aiming to honor Nipsey's legacy by promoting entrepreneurship within the Black community.
The predominantly Black male book club was formed after one fan's list of novels that Nipsey referenced in interviews and songs over the years that went viral on social media. In a single year, The Marathon Book Club already counts itself 74 members strong with four chapters established in Oakland and New York as well as Washington, D.C., and L.A, according to the LA Times.

"People want to connect and, in a sense, heal," Tom Hamilton, the co-owner of book store Eso Won Books, told the publication. Hamilton said that Nipsey also frequently stopped by Eso Won Books, recalling the time that the Grammy-nominated rapper spent $400 worth of books during his last visit in December 2018.

Hamilton's sentiments apparently hold up well after many of the men shared that they had found healing through the regular meet-ups of the book club as they exchange and relate their own personal struggles between one another. For many, Nipsey's teachings have become even more inspirational. 

"Seeing brothers talking about the journey while they are in it makes you realize, 'I'm not alone in this,'" Rashad Drakeford, founder of The Marathon Book Club, explained to the LA Times. "I'm feeling the same thing."

As in the words of Nipsey Tha Great himself, the marathon has certainly continued.

Read more about The Marathon Book Club with Los Angeles Times' coverage in full here.