NAACP Unveils Legislative Priorities Ahead Of Congressional Black Caucus Weekend
The civil rights organization says it's 'committed to amplifying the needs of Black communities' to achieve lasting progress.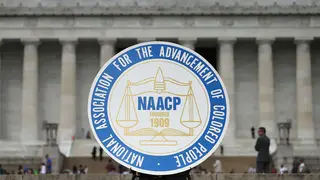 "For nearly a decade, Black Americans have weathered unrelenting attacks and faced insurmountable obstacles due to both the actions and inactions of many elected officials," NAACP President & CEO Derrick Johnson said in a statement that unveiled the list of priorities, which includes ending mass incarceration, advancing economic equity and passing police reform legislation.
"No badge should be a shield from accountability. Congress must pass legislation to end qualified immunity and develop a national database to remove officers engaged in a pattern of misconduct from our communities," the NAACP's statement reads.
In another criminal justice issue, the organization demands rigorous testing of law enforcement's use of artificial intelligence (AI) technologies to eliminate biased policing.
Racial bias was injected into the creation of face recognition software and how law enforcement uses it, according to the American Civil Liberties Union. "It's been used by police departments to wrongfully arrest Black men … and by the FBI to surveil Black Lives Matter demonstrators exercising their First Amendment rights," the ACLU stated, adding, "Black and Brown people are harmed the most when this racist technology collides with our racist systems."
In August, investigators said a White gunman fatally shot three Black people at a Dollar General in Jacksonville. Ryan Palmeter, 21, was seen at historically Black Edward Waters University before using an AR-15 semi-automatic rifle in the shooting rampage at Dollar General.
"Hate has no place in a democracy, and neither do assault weapons. Passing an assault weapons ban is a crucial step towards advancing public safety and preventing the continued perpetuation of domestic terrorism," the NAACP's statement reads.
The legislative conference is slated for September 20-24 at the Walter E. Washington Convention Center in Washington, D.C., under the theme: Securing our democracy. Protecting Our Freedoms. Uplifting Our Culture.
NAACP leaders will participate on several panels, including "The State of Education: Sounding the Alarm on the Black Educator Shortage" with National Education Association President Becky Pringle and "Student Debt Cancelation is Essential" with Congresswoman Ayanna Pressley.
"The NAACP is committed to amplifying the needs of Black communities across the country in order to achieve real progress that will allow us to thrive," Johnson said. "From economic equality to policing reform and voting rights, our calls for progress must be prioritized and executed upon by our leaders in Washington. Black America is watching and we expect action in Congress to continue pushing our country forward. We have made our priorities clear – it is now time for action."