Ten Buffalo Shooting Victims Include A 'Hero' Security Guard And Community Activist, 72
Accused Shooter Payton Gendron is a White Supremacist, police say.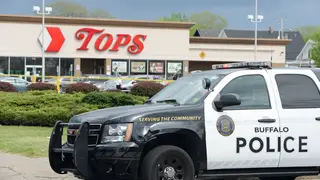 The Buffalo Police Department released a list Sunday (May 15) of the victims in the mass shooting at a local supermarket that killed 10 people. Three of those shot suffered non-life threatening injuries.
According to the Buffalo Police Department, Payton Gendron, 18, entered the Tops Friendly Markets store May 14 with a military-style assault rifle and opened fire. Investigators believe it was a racially motivated attack, the Associated Press reports.
He allegedly researched the local demographics and chose that supermarket to kill as many Black people as possible. Gendron shot, in total, 11 Black people and two white people Saturday.
Citing an unnamed law enforcement official, the AP said a preliminary investigation found Gendron had repeatedly visited online sites that promoted white supremacist ideologies and race-based conspiracy theories.
"This kind of hatred, vitriol and violence will never be stamped out until we address the systemic and prevalent inequities and racism in this country," Little Rock, Arkansas Mayor Frank Scott Jr., who also serves as president of the African American Mayors Association, said in a statement to BET.com.
"America's Black mayors urge our fellow countrymen to speak out against anti-Black violence and stand with all affected communities. Our prayers go out to the affected families and the greater Buffalo community."
The victims ranged in age from a 20-year-old who survived a bullet through the neck and back, to the fatal shooting of an 86-year-old woman whose son is a retired Buffalo fire commissioner, the Buffalo News reports.
Aaron W. Salter Jr., 55, was a retired Buffalo police officer who was working as a security guard at the supermarket. He died in a gunfire exchange with Gendron. "Today is a shock. I'm pretty sure he saved some lives today. He's a hero," his son, Aaron Salter III, told The Daily Beast. 
Salter began working at the Tops Friendly Markets store as a security guard after serving three decades as an officer with the Buffalo Police Department, which he joined after graduating high school. According to his LinkedIn page, he launched a green energy company named AWS Hydrogen Technologies after retiring. He was working on a clean-energy car engine project.
Ruth Whitfield, 86, was a grandmother and the caregiver for her husband, civil rights attorney Benjamin Crump tweeted. She was gunned down at the supermarket after returning from a nursing home to visit her husband.
"She was a blessing to all of us," said her son, retired Buffalo Fire Commissioner Garnell W. Whitfield, told the Buffalo News. "She loved God and taught us to do the same thing."
Katherine Massey, 72, was an activist and advocate for civil rights and education in Buffalo's Black community, former Erie County legislator Betty Jean Grant told the Buffalo News.
"She was the most wonderful person in the world. She'd cut grass in the local park, do the trees, give kids on the street toys. That was my sister, anyone she could help," Massey's sister, Barbara Massey, told The Washington Post.
Roberta Drury, 32, relocated to Buffalo from Syracuse to help her brother with his bar and family after his bone marrow transplant, Drury's sister, Amanda Drury, told Reuters. "She was vibrant and outgoing, could talk to anyone," she added.
Celestine Chaney, 65, was a cancer survivor shopping for shrimp and strawberry shortcake in the supermarket, WKYC reported. Chaney was a churchmember whose grandchildren ranged in age from 4 to 28. "She was probably the sweetest person you could meet. Very loving, very giving, very kind," her daughter Dominque Brown told the Buffalo News.
Heyward Patterson, 67, is remembered for his service to his church and community, WGRZ reports. The church deacon routinely drove people who had trouble walking to the grocery store. "A lot of them don't have cars, no buses. He's just taking them home back and forth. He had a family, has a beautiful son, and they snatched him from them," Leonard Lane stated. "He loved his children, any man can see. And he loved God, that's all that he wanted to do, help people."
Pearl Young, 77, operated a pantry and fed hungry people every Saturday in a park, according to WXIA news anchor Madison Carter, who grew up in Buffalo. The grandmother who "loved singing, dancing, and being with family" was killed while shopping for groceries.
Geraldine Talley, 62, was shopping with her fiancé when she was fatally shot, CNN reports.
"She's sweet, sweet, you know, the life of the party. She was the person who always put our family reunion together, she was an avid baker ... mother of two beautiful children," Talley's niece, Lakesha Chapman, said, referring to her as "Auntie Gerri."
Margus D. Morrison, 52, was a father of three children, WKBW reports.
Andre Mackniel, 53, was killed while visiting relatives and purchasing a surprise birthday cake for his grandson, USA Today reports. "He never came out with the cake," his cousin, Clarissa Alston-McCutcheon, said of Mckniel, adding that he was "just a loving and caring guy. Loved family. Was always there for his family."
The police identified the survivors as Zaire Goodman, 20, Jennifer Warrington, 50, and 55-year-old Christopher Braden. Goodman and and Warrington were treated and released from hospital. Braden was reportedly in stable condition with non-life threatening injuries, according to Buffalo News.