Four NFL Players Suspended Indefinitely For Violating League Gambling Policy
Isaiah Rodgers, Rashod Berry, and Demetrius Taylor were suspended indefinitely. Nicholas Petit-Frere was suspended for six games.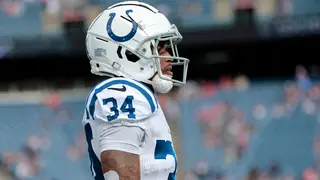 The NFL has suspended three players from the Indianapolis Colts for violating the league's gambling policy.
According to CBS Sports, Isaiah Rodgers and Rashod Berry of the Indianapolis Colts and free agent Demetrius Taylor were suspended indefinitely. Tennessee Titans offensive tackle Nicholas Petit-Frere has been suspended six games for betting on other sports at the workplace.
Per sources close to the situation, Rodgers placed around 100 bets were placed with at least one wager on a Colts game.  Most of the bets were in the $25-$50 range including a $1,000 prop bet on the over/under on rushing yards by a Colts running back, which won.
Rodgers admitted to betting and said that he is taking"full responsibility" for violating league rules.
Because of their actions,  Colts general manager Chris Ballard announced Rodgers and Berry were cut from the team.
"We ... made the roster moves as a consequence of the determination that these players violated the league's gambling policy," Ballard said in a team statement. "The integrity of the game is of the utmost importance. As an organization, we will continue to educate our players, coaches, and staff on the policies in place and the significant consequences that may occur with violations.
On Thursday, (June 30), Petit-Frere apologized for betting on other sports games but claimed that he was unaware that he was violating the league's gambling policy.
"The betting I engaged in was NOT NFL related and was legal under Tennessee law. It is only being sanctioned because it occurred at the Titans facility," Petit-Frere said.
"I want to apologize to my family, coaches, teammates, and the Titans fans. I have always strived in every stage of my life to follow the rule," Petit-Frere added. " I did not knowingly break the rules. Even after attending a league presentation, I was unaware about the specifics around placing bets from a team facility."
"I will do everything in my power to help the team during training camp and will be prepared when I return to the roster during the season."
The Titans also released a statement addressing Petit-Frere's suspension.
"We have been made aware of Nick's suspension by the league. We believe in Nick and know that he has a deep respect for the integrity of the game and our organization. We will continue to emphasize to our players the importance of understanding and adhering to league rules and policies."
Since 2018, 11 players, at least one assistant coach, and various league personnel have been suspended for violating the NFL's gambling policy
In response to the issue, the NFL announced that it would reinforce its gambling policy to players and  all rookies will be required" to attend mandatory education sessions, and a group of league officials is making in-person visits to team facilities to emphasize and clarify what activities are prohibited amid the rapid proliferation of sports gambling."