Nets' Jeremy Lin Says He Was Worried About 'Appropriating Black Culture' When He Got Dreads
He explains his thought process behind his new hair in this essay.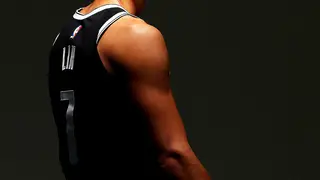 Now entering his eighth season, the Brooklyn Nets point guard wanted to switch it up again ... and this time decided on dreads.
In the piece entitled "So ... About My Hair," Lin explained, "I was really unsure about getting dreads because I was worried I'd be appropriating black culture."
But with some support from his teammate Rondae Hollis-Jefferson and the Nets staff, Lin decided to go through with getting dreads.
"When I first signed in Brooklyn, I remember talking to Rondae about hair. He told me he would grow his hair out with me — and that he'd get dreads with me," Lin writes in the essay. "One time, [Nets guard] Caris [LeVert] chose my braid design when I wasn't sure what to get. Before this season, D-Lo (Nets guard D'Angelo Russell), [Nets forward] DeMarre [Carroll] and I discussed what the process of getting dreads is like — how painful the beginning process is, whether you could still rock a hat, how to maintain them, things like that."
But Lin still felt uneasy about it.
"I still wasn't sure," he continued. "A recent conversation I had with Savannah Hart, a Nets staff member who's African-American, really resonated with me. I told her about my thought process — how I was really unsure about getting dreads because I was worried I'd be appropriating black culture. She said that if it wasn't my intention to be dismissive of another culture, then maybe it could be an opportunity to learn about that culture."
That talk gave Lin confidence, but he "still had reservations."
"I asked Rondae if he'd be willing to get dreads with me and he said, 'Bro, I've been growing my hair out for you. Let's do it,'" Lin added. "So this weekend, Rondae and I got our hair dreaded — for eight hours straight."
Lin and the Nets will open their 2017-18 regular season on the road against the Indiana Pacers on October 18.
BET Sports News — Get the latest news and information about African-Americans in sports, including weekly recaps, celebrity news and photos of your favorite Black athletes.