Chris Smalls Goes From Rapper To Leader Of Historic Amazon Labor Union Win
His efforts resulted in the first successful U.S. organizing effort among Amazon workers.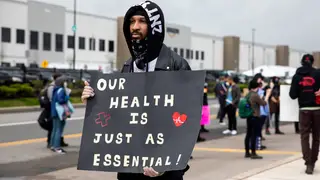 Chris Smalls was a rapper earlier in his adulthood but had to give it up to support his twin children.
The 33-year-old worked at Walmart, Target, and Home Depot before being hired by Amazon in 2015 to work in the warehouse in his home state of New Jersey, and later New York, according to Reuters.
But according to Smalls, it was the COVID-19 pandemic that inspired an unlikely calling: uniting workers at a company that for decades had resisted unionizing. At the beginning of the pandemic in America in March 2020, Smalls noticed that the virus had alarmed workers at JFK8, the retailer's Staten Island warehouse, who believed Amazon was not addressing the threat of the spread.
Smalls would subsequently help stage a walkout demanding health safeguards including the worksite's closure. Despite being on paid leave, quarantining after a close coronavirus contact, he showed up to work, which led to his firing and the beginning of his incredible journey.
New York's Attorney general Letitia James began looking into Smalls' firing the same day he was let go, precipitating months of legal battles between the state and the retailer.
On Friday (April 1), Amazon workers in Staten Island voted to unionize, marking the first successful U.S. organizing effort in the company's history, and handing Smalls and his fellow organizers a huge win.
According to the Associated Press, 55 percent of warehouse workers voted in favor of unionizing, giving the fledgling Amazon Labor Union enough support to pull off a victory.
Although 67 ballots were challenged by either Amazon or the ALU, they were not enough to sway the outcome. Federal labor officials said the results of the count won't be verified until they process any objections that both parties may file.
Smalls is now the president of the Amazon Labor Union, which is not backed by any national union organization.