Deion Sanders, Jackson State Football Forced To Leave Campus Prior To FAMU Game Over Water Crisis
The team must find other lodgings and practice facilities while the city faces a water emergency.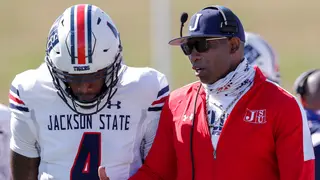 Jackson State's football team is feeling the effects of the water crisis currently happening in Jackson, Mississippi.
According to the Clarion Ledger, JSU head coach Deion Sanders has had to prepare his team against Florida A&M University on Sunday in Miami away from the city and is in the process of moving into hotels and finding a practice facility.

The development comes as the city finds itself in crisis and residents are being told to boil their water and Mayor Chokwe Lumumba has declared a state of emergency and Gov. Tate Reeves called in 4,500 National Guard troops to distribute water.

The complications stem from flooding of the Pearl River, which runs through Jackson and Central Mississippi, causing the water system to fail.

"Due to complications from the Pearl River flooding, Mayor Chokwe Antar Lumumba is declaring a water system emergency as water pressure issues at the O.B. Curtis Water Plant are resulting in low or no water pressure for many Jackson customers," the city said in a statement. "The water shortage is likely to last the next couple of days."
Taking to social media, Sanders addressed the situation and what a lack of water has caused him and his team.
"Water means we don't have air condition [sic]. Can't use toilets," Sanders said in a video posted to his Instagram account. "We don't have water, therefore we don't have ice, which pretty much places a burden on the program. So right now we're operating in crisis mode. I gotta get these kids off-campus — the ones that live on campus, the ones that live in the city of Jackson — into a hotel and accommodate them so that they can shower properly and take care of their needs. Make sure all of our kids are fed, all of our kids have the necessities of life for the next several days, until this crisis resides."
The water system in Jackson, the southern state's largest city, has been in crisis for years as aging, inadequate infrastructure, and a lack of resources to bolster it came to a head this week as officials noted that the city's largest water treatment plant was failing.
Subsequently, homes and businesses were left with little to no water pressure. Officials also warned that whatever did flow from faucets was not safe to consume and was probably untreated.
"Until it is fixed, it means we do not have reliable running water at scale," Mississippi Gov. Tate Reeves said during an emergency briefing on Monday (August 29). "It means the city cannot produce enough water to fight fires, to reliably flush toilets, and to meet other critical needs."
It's unclear when the water issue would be resolved.