Los Angeles Activists Demand Justice After Police Shoot Double-Amputee
Anthony Lowe Jr. was 36 years old.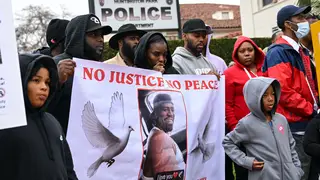 Los Angeles activists are calling for accountability after police fatally shot Anthony Lowe Jr., a double-amputee, in Huntington Park, an area of southern Los Angeles.
On Jan. 26, police responded to a call that a man in a wheelchair stabbed someone. According to a police statement, Lowe "dismounted the wheelchair, ran to the victim without provocation, and stabbed him in the side of the chest" with a "12-inch butcher knife."

Once on the scene, police confronted Lowe whose legs were amputated at the knees. In a video filmed by a passerby, the 36-year-old is seen with a knife and appears to be escaping police with his hands. The police statement claims he was threatening officers before he was tased twice. Two officers fired at Anthony Lowe Jr. "around 10 times," according to the unit's Lt. Hugo Reynaga. Huntington Park police officers do not wear body cameras and, as of now, they will not release video of the shooting from a nearby business.

RELATED: 'Cloud Of Dishonor': Memphis Deactivates 'Scorpion' Unit After Tyre Nichols Fatal Beating Video
At an emotional press conference, Lowe's family said he was going through a mental health crisis. CBS News reports Dorothy Lowe, Anthon Lowe Jr.'s mother, said, "They murdered my son, in a wheelchair with no legs. They do need to do something about it."
"It's sad how these police are getting away with killing our African American people," Lowe's  cousin, Ellakenyada Gorum, said through tears. "Just getting away with it. He was in a wheelchair. What more could he do? What more could he do?"
The Lowe family and the Coalition for Community Control Over the Police, who were also at the press conference, claim they have heard little from Huntington Park Police and are demanding transparency.
Lowe was the father of two teenagers. Ebonique Simon, the mother of one of his children, told CNN he was "dealing with a lot of depression" over his legs being amputated. Yatoya Toy, his sister, told The Los Angeles Times his legs were amputated last year after an altercation with law enforcement in Texas.
The Huntington Park police officers' names have not been made public, but they are currently on paid administrative leave, per protocol.
"I just want the truth. Nothing but the truth and justice for my son," Lowe told the Times. "My son was murdered."