Lauryn Hill Reunites With Fugees Ahead of Pras' Sentencing
The group performed at the 2023 Global Citizen Festival.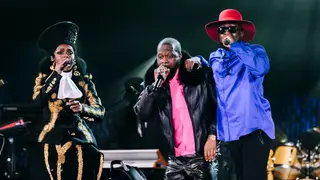 The Fugees' resurgence in live performances continues as the iconic hip-hop trio recently graced the stage at the 2023 Global Citizen Festival.
On Saturday, (Sept 23 ) record-breaking Grammy Award-winning singer and songwriter Lauryn Hill delivered a dose of classic records, including "Doo Wop (That Thing)" and "Everything is Everything" before being joined by Wyclef Jean and Michel for "Killing Me Softly," "Ready or Not," and "Fu-Gee-La."
This performance comes ahead of founding member Pras Michel's impending prison sentence. Last April, the 50-year-old rapper was ultimately found guilty of conspiracy, concealment of material facts, making false entries in records, witness tampering, and serving as an unregistered agent of a foreign power in a far-reaching international conspiracy spanning two political administrations, with multimillion-dollar implications.  He faces up to 20 years in prison.
This marks the latest in a few appearances by the acclaimed rap group. Following Michel's verdict last June, the group reunited at the Roots Picnic festival.
Wyclef told the audience, "I hate goodbyes, so regardless of what you hear, we gon' always be the Fugees."