Atlanta WNBA Players Endorse Senate Candidate Raphael Warnock Over Their Team Owner Kelly Loeffler
Loeffler attacked the Black Lives Matter movement this summer.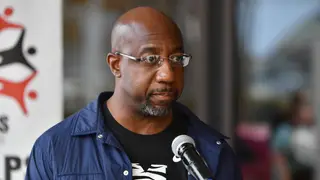 Back in June, Georgia's incumbent Republican senator Kelly Loeffler criticized the Black Lives Matter movement for being a "very divisive organization" that promotes "violence and destruction across the country." The comments were regarded as hypocritical, considering Loeffler is a part-owner of the WNBA team the Atlanta Dream. WNBA players have been at the forefront of social justice movements for years and were especially vocal after the deaths of George Floyd, Breonna Taylor, Ahmaud Arbery and others this past summer.
Since then, players from across the league and particularly those of the Atlanta Dream began wearing "Vote Warnock" T-shirts on national television, in support of her Democratic opponent Reverend Raphael Warnock.
The team's support contributed to a steady climb in Warnock's polling and donation numbers, forcing Loeffler into a runoff election that will be held in January. 
According to the Washington Post, Warnock said the support from the WNBA was pivotal in his Senate race and was even a "turning point" in his campaign..
"Warnock noted that, in the 48 hours after the WNBA's Aug. 4 T-shirt campaign, his campaign raised $183,000 and attracted 3,500 new grass-root donors," the newspaper reports. "In fact, in both late June, when the WNBA criticized Loeffler, and early August, when the players began supporting Warnock, his campaign raised a great deal in donations, with high dollar totals and high numbers of donors."
Aside from the WNBA's support, Warnock's platform has also contributed to his success in a traditionally red state. His stances on health care and civil rights during a pandemic and a renewed reckoning with race in America have put him in good standing with particularly Black voters. Warnock also got national attention when he delivered the eulogy at John Lewis' funeral.
According to polling data from FiveThirtyEight, August is when Warnock's support began climbing, separating him from his Democratic primary opponent in the race, Matt Lieberman. He also overtook the two Republican front-runners, Loeffler and Rep. Douglas A. Collins. And while it's impossible to isolate the effect of the WNBA's support from the Warnock campaign's other positive developments at that time, the assumption can be made that the WNBA contributed.