The Mamba Day Collection Sells Out Ahead of Kobe Bryant Day
The limited release celebrates the iconic NBA star who would have been 45 today.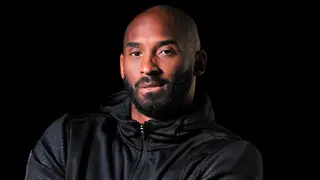 Kobe Bryant would have been 45 years old today, Aug. 23, had he not perished along with his daughter, Gianna, 13, and seven others in a plane crash in Jan. 2020.
Since his passing, The City of Los Angeles and Orange County, California, commemorates his life on Aug. 24.
This year, the Mamba Mambacita Sports Collection—founded by Vanessa Bryant—released an off-white sweatsuit collection modeled by Natalia Bryant. And the collection sold out in minutes.
"The Mamba Day collection by @mambamambacitasports sold out in minutes yesterday," Deadstock wrote on Instagram, adding,  "Kobe Bryant Day is less than a week away, what are you wearing to honor the LA legend?"
The collection featured a sweatshirt and matching shorts. According to Footwear News, the sweater features the Mamba & Mambacita boucle logo on the front of the garment, with Kobe and Gigi's numbers and heart detailing on the back. She also wore matching shorts from the collection. The shorts featured a drawstring waistband with the Mamba & Mambacita boucle logo on the left leg.
The release came out ahead of Nike's Kobe 8 Protro "Halo" release. The all-white basketball shoe was released today (Aug. 23), Kobe's birthday. However, it was also released in very limited quantities, according to Sports Illustrated—something his widow addressed.
"The Kobe VIII protro's came out beautiful!!!!," Vanessa wrote on Instagram alongside a pic of her wearing the shoe, she added, "Love collaborating with the Nike footwear team on Kobe's line.
Nike wanted this debut Halo Collection to be limited and collectable but the good news is Nike is working towards more units for future Kobe releases! The "Kobe Halo" collection debuts on Kobe's birthday tomorrow, collect all future Halo releases to celebrate this special day every year."