Could Kenya Moore Be the Next One Getting the Ax From 'RHOA'?
More drama.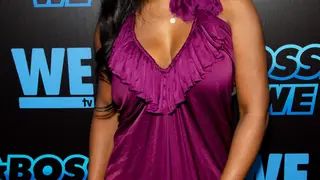 According to RadarOnline, producers for the show are allegedly furious with Kenya Moore.
"The network isn't happy with the recent series of events involving her 'wedding,'" an insider reportedly told the website. "They feel that it put the authenticity of the series in jeopardy."
"She's attempted to smooth things over by offering to have another ceremony next summer for the cameras, but that plan hasn't been well received either," the insider added.
Apparently, the show's co-stars have already began filming and, because of the wedding, the producers believe there's no other storyline in place for Kenya this season.
In an interview with People, Kenya Moore revealed some details surround her recent and sudden marriage to businessman Marc Daly in a romantic sunset ceremony on the beaches of St. Lucia. She also explained whether or not her new hubby would be on the show if she was brought back.
"I think we have to make that decision together if the opportunity comes," Moore said. "We just got married — we haven't even talked about that stuff before. I'm sure we will make the right decision. But right now, I'm enjoying being a bride and a newlywed."
Could this be the end for Kenya on RHOA, at least for this season? Let us know in the comment section below.