Hip Hop Awards 2022: Joey Bada$$ Performs 'Head High' To Honor Late Rapper Young Dolph
White roses filled the stage during his powerful performance.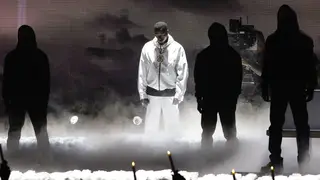 Late rapper Young Dolph was honored at the  BET Hip Hop Awards 2022 with an emotional tribute video of his life, followed by a performance by Joey Bada$$ to pay homage to his legacy.
With white roses filling a portion of the stage, the Brooklyn artist rapped to his track "Head High" released earlier this year.
"Time waits for no man, life is but a two-step, slow jam/Dancin' with the devil, tryin' not to lose my balance/But God blessed the kid with many talents, he was chosen
It's why you see him livin' in the moment," he says opening up the song.
He continues, "Every second, gotta own it/'Cause you never know when could be your last
Time breathin', now you bleedin' from the gun blast/Then you thinkin' 'bout the past, see your whole life in a flash/Best friends lowerin' your casket."
Continuing his powerful performance, he raps, "So I hold my head high 'til they put me below/ Best know 'til the day I die I'ma keep my heat close/This is for my n***as who took a day to relax/Huggin' the block but the block ain't hug 'em back," while holding his fist in the air.
"So we hold our head high 'til they put us below/Best know 'til the day we die we gon' keep this heat close," Bada$$ adds, while audience members hold up make-shift candles to honor some of those who impacted the hip hop industry and are now no longer with us.
Wrapping up the performance, background performers wearing Black hoodies turned around to show the names of fallen rappers including PnB Rock, Nipsey Hussle, XXXtentacion, Tupac Shakur, The Notorious B.I.G., Pop Smoke, King Von, Big L and Trouble.
Young Dolph (born Adolph Thornton Jr.) was tragically gunned down in his hometown of Memphis, TN on Nov. 17.
"This is one of the best, purest, realest tracks I've ever made and I'm fulfilled to finally share it with the world," Bada$$ said in a statement, during the initial release of the track. "This one is for Nip, X, Pop and every young black man who's life was taken away way too soon. This is for everyone who has to navigate life daily with their head on a swivel."