Shelly-Ann Fraser-Pryce Becomes Fastest Female Sprinter Alive
She's second only to Florence Griffith Joyner.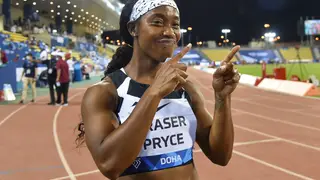 Jamaica's Shelly-Ann Fraser-Pryce became the fastest woman alive to run the 100 meter dash on Saturday and is second to only one other woman in history: Florence Griffith Joyner.
Clocking an incredible 10.63 at a meet in Kingston on Saturday (June 5), Fraser-Pryce, blowing her competition away and obliterating the national record of 10.70 that she shared with Elaine Thompson-Herah, who won gold in the 100m at the 2016 Olympics.
Fraser-Pryce's 10.63 is the fourth-fastest time ever recorded. Flo-Jo had run the three fastest times ever in 1988 (10.49, 10.61 and 10.62).
NBC Sports reports the 100m favorite had been 21-year-old American Sha'Carri Richardson. This spring, she had posted times of 10.72, 10.74, and 10.77, none of which come close to Fraser-Pryce's Saturday time. Thompson-Herah had been just behind Richardson with a 10.78, and Fraser-Pryce had been behind both of them with a 10.84, until now last weekend.
With Fraser-Pryce's 10.63, she's built up some pretty high expectations heading into the Tokyo Olympics, which begin next month.