Fire Breather Goes Up in Flames — Literally — During High School Pep Rally
Likely has third degree burns to more than 15 percent of his body.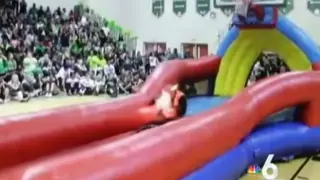 This story gives a tragically literal meaning to the old phrase, "if you play with fire..."
A routine fire breathing display for former circus performer Ricky Charles went horribly wrong at a high school in Florida when he was engulfed in flames in front of 2,000 students at a pep rally. 
Charles was putting on the show at Atlantic Community High School on Thursday morning when the dangerous accident took place. The video of the incident, filmed by one of the students in the audience, looks like something out of Las Vegas:
The blame apparently goes to the flammable parrafin liquid that Charles uses on his lips to spit fire. He was left staggering around the gynamisum as others tried to put out the flame. 
A voice on the PA system can be heard trying to keep the room calm as students' screams rung out. Following the incident, seven others were sent to the hospital, though none were considered in serious danger. 
Charles, on the other hand, was taken to the hospital as a "trauma alter" patient, which is a likely indication that he has third degree burns on at least 15 percent of his body. 
(Photo: NBC 6 South Florida)