Michael B. Jordan On 'Creed 2,' Russian Interference & Life After Killmonger
"It's like a family reunion for us."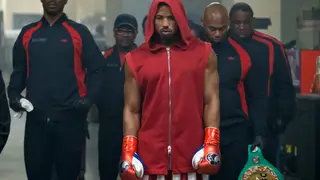 On a soundstage in Upland, PA, 20 minutes from downtown Philadelphia, about 800 extras are holding their positions like a phalanx of soldiers preparing to be shipped off to war. Stage 2 is about the length of a football field and has been outfitted to resemble Brooklyn's Barclays Center. Lasers pierce the darkness as the "crowd" waits for the scene to begin shooting. Finally, the light is sucked out of the room, a bell shrieks and a voice yells "Ready, and playback!" Jaden Smith's  "Icon" blares from the speakers and Michael B. Jordan floats out of the darkness draped in a maroon robe flanked by screen vet Wood Harris. "Do not look directly into the laser!" An authoritative voice barks into the air. But it is Adonis Creed who shines the brightest in this moment.
When future film students look back at the dubious era of Hollywood reboots and offshoots, Creed will stand as a shining example of how it was done right. Released in 2015 by Warner Brothers studios and directed by Ryan Coogler, the heartfelt story of amateur boxer Adonis Creed, son of the Rocky franchise's Apollo Creed, won over audiences with an unpretentious mix of brawn, beauty and unapologetic Blackness. Michael B. Jordan was undeniable in the titular role landing punches and dialogue with passion and grit. His performance was perfectly balanced by Tessa Thompson's soft but uncompromising portrayal of his girlfriend, Bianca. The underdog pugilist storyline was updated to reflect contemporary America without being patronizing, with Adonis fighting perceptions of legitimacy—both as a fighter and a son—and Bianca fulfilling her dreams of being a singer despite hearing loss. Sylvester Stallone provided the bridge to the past as "Uncle" Rocky Balboa, now fighting cancer instead of other fighters while grooming young Adonis for his first major bout.
The story connected with viewers like a right cross, opening with $29 million dollars and a lifetime gross of almost $110 million. Critics stamped it with a 95% rating on Rotten Tomatoes and Stallone earned an Oscar nomination for Best Supporting Actor. Eclipsing its budget of $35 million all but guaranteed a sequel, and just months after release Stallone told Variety that he was considering either doing a prequel where he would go back in time with Carl Weathers, the elder Creed killed in Rocky IV, or move forward with young Adonis.
"You'll have him face a different opponent, which I would say is a more ferocious, big Russian," Stallone said. "You can start to meld my experiences and then you start to bring different cultures into it. And you can see what's happening with the Russians today in America. The complication will come with the girl's ambition, because she's not Adrian. She has places to go, things to see, the clock is running on her hearing."
Well, two years later that is the direction they chose to go in. With the reward for success being more work, Ryan Coogler went on to helm Marvel's Black Panther setting box office records, thanks in no small part to MBJ's portrayal of villain Erik Killmonger. Steven Caple Jr., fresh from directing his coming-of-age skater flick The Land, was called in to assume directorial duties with Jordan, Thompson and Stallone reprising their roles with new stakes. Romanian boxer Florian Munteanu was cast as Viktor Drago, son of—you guessed it—Ivan Drago, the Russian bruiser who killed Adonis' father in the ring.
"It's fun. It's like a family reunion for us," Michael B. Jordan says during a break from filming. In addition to his Killmonger role, Tessa starred in Thor:Ragnarok as the alcoholic mercenary Valkyrie, making them Marvel siblings as well, but they've been keeping in touch since filming the first Creed. "Being able to go off and do huge films that were very successful and then come back together and do something that you're familiar with [is good]. It's fun to kind of evolve our relationship professionally and kind of dive into the story years later."
Jordan is still sporting the chiseled physique of his Greek god namesake. The push-ups on command (thanks to his Black Panther co-star Lupita Nyong'o) probably helped, but MBJ has been putting his body through the paces.
"Doing Black Panther, it was a different look. I kind of wanted to be massive, not so much like a boxer," he says of his training regimen. "I kind of wanted to be a soldier, so we did our own thing to develop Eric. I went to do Fahrenheit 451, so I dropped 15 pounds for that, and then right after that I had to go back up in weight and size for this one, so it was tough on my body this time around. I'm a little bit older, not saying I'm too far gone, [but] at 31 things are a lot different than 26, 27, I promise you that. Boxing shape is a different thing. Spending hours in the gym, doing the rounds, working on your hand coordination, throwing punches. Diet was a little stricter on this one because I had to lean out as much as I could. It was just more intense this time around."
More important than Adonis' physical growth is his mental and spiritual maturity since the first film. No longer a novice, he has a new set of challenges to overcome.
"First time around was definitely him proving to himself that he just belonged," says Jordan. "I thought he wasn't supposed to win that fight, he just wanted to survive in a sense and just prove that he belonged. I think that was really important to make that film real and I think this time around the winning definitely plays an element in his heart. I can't get too specific because I feel like it's really crucial to a lot of things, but it's not as typical as one would think. One of the good things [about] growing with a character is as I get older I can bring life experiences that I normally wouldn't have too much to say on and be able to bring those things to the screen in a real way and make them as real as possible."
As life experiences go, it's hard to conceive a tougher battle than fighting the son of the man who killed your father. And they gave Adonis quite a mountain to climb with Viktor Drago. ("Munteanu" translates to "mountaineer" in Romanian.)
"He had to lose some weight and I had to gain weight in order for it to even try to make it make sense," he says of his co-star, the 6-foot-4 MMA fighter and boxer. "We kind of tried to meet each other in the middle. He is a great guy, he is a hard worker, super humble and eager to learn. He picked up things very quickly, especially the choreography. We built the chemistry very fast as well. He definitely has the look, perfectly casted. I couldn't imagine anyone else playing Viktor. It's like spot on."
Other than his opponent, the other major difference in Creed 2 for Jordan is the director. He has an obvious bond with Ryan Coogler, whom he'd worked with since Fruitvale Station. But he insists that Steven Caple Jr. has more than risen to the challenge.
"We get along great, the feeling of working with Steven, there are definitely some familiar moments. Communication is definitely there. He just turned 30, I'm 31. Whenever you're working with somebody in the same generation that's Black and from similar places, there's a certain level of chemistry and understanding that just translates to the set that you're able to quickly pick up what each other means and stuff like that. The shorthand is definitely there, obviously not nowhere near where it is with me and Ryan, because that's just time, we've been together for so long. [But] I have no doubt that me and Steven will be on that same page in the future."
It's only the 38th day of shooting out of 52, so there is a lot of movie left to make, but Jordan is relaxed and ready to return to set. As he rises from his seat he chuckles at a meme of him and Tessa as Valkyrie and Killmonger promoting Creed 3, a battle in space for their hearts. I tell him that for Creed 2, only one outcome will be acceptable for me and a lot of fans, Adonis being victorious. So how on earth do you build suspense?
"I think the first one was an ordinary story trying to figure out who he was and owning his name. This time around for him is a lot about legacy, family, love, revenge and animosity. I think it's a mixture of all those things kind of all tied into one, without being too specific to kind of ruin it. I think all the obvious wants that I think fans and people who knew the story would have are being addressed in a real creative and sophisticated way."
Creed II is in theaters November 21.