Quavo Honors Takeoff In New 'Greatness' Music Video
It features throwback footage of him and the late Migos rapper and more.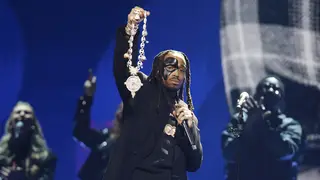 Quavo just released a brand new video for his DJ Durel-produced new song "Greatness."
The visual, directed by Chris Dvon, pays tribute to the Migos rapper's family and lifestyle, as well as throwback footage of him and nephew Takeoff, who was tragically killed last November.
On the song, Quavo relays how he's been feeling as of late, rapping: "My chain, my watch, my wrist, my m****rf****n' house, my rise and grind (Grind) / I'd give away all this s**t just to see my dawg just one more time, look up at the lights one time (One time) / Here to stay, rock the mic one time (One time), roll one, get right one time (Hey) / Two cups, two cups, two cups (Ooh), you remember them MCM backpacks? We was runnin' around with them racks (Racks)."
Quavo has already released a fully-purposed tribute song to Takeoff called "Without You," which he performed at the 65th Annual Grammy Awards just a few weeks ago.
Check out "Greatness" below.