Bun B Says Tory Lanez's Prison Sentence Is a 'Wake-Up Call For Violence Against Women'
The Texas native also hopes Lanez keeps his head up in prison.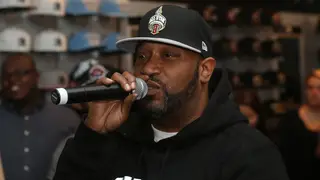 Bun B believes Tory Lanez's recent 10-year sentence in connection to the shooting of Megan Thee Stallion to be a stark "wake-up call" regarding the issue of domestic violence.
The veteran hip hop figure was stopped by TMZ reporters on Thursday, Aug 10, while out in New York City, who asked the emcee about his perspective on the ten-year sentence and its potential implications as a "wake-up call for hip hop."
In his reply, Bun B emphasized that it was a "wake-up call for violence against women" in general.
"I don't think this has anything to do with Hip Hop," the Texas native argued. "If there were nobody in Hip Hop involved in this, this would still not be a good thing for us to see in this world right now."
When asked if he had any words of encouragement for the Canadian rapper, the industry veteran responded:  "Look man, just keep your head up, you know? Obviously, Tory might not be the biggest fan of mine, but I don't wish prison on anybody, and I hope he comes home safe."
Following his sentencing, Lanez released a lengthy statement on Instagram maintaining his innocence in the 2020 shooting incident that left the "Savage" rapper injured.
He wrote that the scandal was "nothing but another moment where my back is against the wall, and I refuse to stop fighting till I come out victorious." The rapper signed off, "Tough times don't last, tough people do."