50 Cent Announces New G-Unit Album
Fif says the team's back together, but don't expect Game to be on the release, slated for November.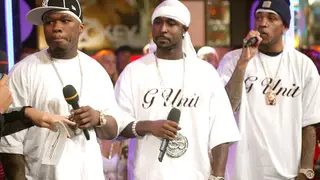 It's been less than a week since G-Unit reunited at Hot 97's Summer Jam, but the camp is ready to drop a new album. 
"Yes, you will see an album by late November," 50 Cent confirmed in an interview with Good Day Philadelphia this morning.
Fans have been waiting for the return of the squad since at least 2008 (when their last album, T.O.S., dropped) and the Guerilla Unit is finally delivering. Two new songs have been released already, although not necessarily from the album.
Fif, Tony Yayo, Lloyd Banks, Young Buck and possible new Unit inductee Kidd Kidd most recently put the G-Unit touch on Drake's "0-100" track. While Drizzy remains on the opening, Fif comes in soon after with the Southside flow that captured fans during his Get Rich or Die Tryin' days. "You got me f----d up you think it's different now a n---a rich/'Fore I get to cuttin', all you n----s better cut the s--t," he raps.
The remix comes just a day after the team gifted fans with "Nah I'm Talking 'Bout," a remade version of Hit-Boy and HS87's "Grindin' My Whole Life."
And the reunion comes after years of internal beefs. In the aftermath, one member is not welcome back, Fif confirmed. While participating in Reddit.com's Ask Me Anything Tuesday (June 3), he shot down any hopes of Game's return to the group.
"Not a chance," he wrote.
BET.com is your #1 source for Black celebrity news, photos, exclusive videos and all the latest in the world of hip hop and R&B music.
(Photo: Scott Gries/Getty Images)