John Witherspoon, Star Of 'Friday' And 'The Wayans Bros.,' Has Died
The actor and comedian was 77.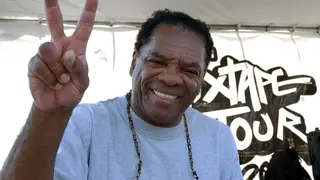 Actor and comedian John Witherspoon, best known for his roles in Friday and The Wayans Bros., has passed away. He was 77.
The comedy legend's family confirmed his death to Deadline in a statement.
"It is with deepest sorrow that we can confirm our beloved husband and father, John Witherspoon, one of the hardest working men in show business, died today at his home in Sherman Oaks at the age of 77," it reads. "He is survived by his wife Angela, and his sons JD, Alexander, and a large family. We are all in shock, please give us a minute for a moment in privacy and we will celebrate his life and his work together. John used to say 'I'm no big deal,' but he was a huge deal to us."
The Witherspoon family also shared a separate statement addressing his passing on Twitter.
"He was a Legend in the entertainment industry, and a father figure to all who watched him over the years," their tweet reads. "We love you 'POPS' always & forever."
Witherspoon is best known for his roles as Willie Jones in the Friday movies, John "Pops" Williams in The Wayans Bros., and for voicing Robert Jebediah "Grandad" Freeman in The Boondocks. 
His lengthy acting resume in TV and film is also impressive, with him starring in the likes of Hollywood Shuffle, Vampire in Brooklyn, Soul Plane, The Fresh Prince of Bel-Air, Boomerang, I'm Gonna Get You Sucka, House Party, I Got the Hook-Up, Little Man, The Richard Pryor Show, Black Jesus, Black-Ish, and many more.
In addition to his film and TV work, he was also a staple in hip-hop culture, having appeared in music videos for Jay-Z's "I Just Wanna Love U (Give It 2 Me)" and Field Mob's "Sick of Being Lonely." Most recently, he was even featured on Chance the Rapper's album The Big Day.
We send our heartfelt condolences to John Witherspoon's family, friends and fans during this time. May he rest in peace.