How Many Successful Black People Does It Take to End Racism?
A study showed that examples of Black success can cause people to disregard the impact of racism.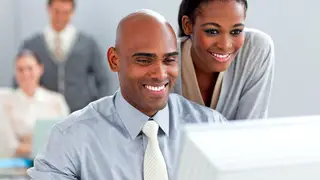 Less than 60 years after Jim Crow laws, lynchings, marches, deaths and protests, a study finds that exposure to examples of successful Black people causes individuals to assume that racism doesn't exist.
Examples such as Racism Is Over, on Blogspot, show that in an age soon after the election of a Black president, there are people who believe his success marked the end of centuries of racial injustice.
Published in the Journal of Personality and Social Psychology, the study alleges that this is a common belief that extends toward examples of non-stereotypical Black success stories.
Clayton R. Critcher, an assistant professor at University of California Berkeley, and Jane L. Risen, an associate professor at the University of Chicago, authored a series of eight studies that show the presence of "counterstereotypes" (Black college graduates, doctors, lawyers, etc.) and "drew an automatic inference that race was not a success-inhibiting factor in modern society."
One of the studies showed that examples of prosperous Blacks caused people to deny racism because they presented possible outcomes.
As Critcher told the Huffington Post, "People shifted the blame from vestiges of racism in America to problems in Black communities."
In the eight experiments, hundreds of college students and adults were asked to identify images of successful Black or white individuals and were then asked their opinion on how race factors into the current state of America — including its role in the workplace.
The study found that non-Black participants who viewed the examples of successful Black people in non-stereotypical fields were less likely to see racism as a problem in the attainment of success. The opposite was true for those that viewed images of Black people in common areas like basketball and music.
BET National News - Keep up to date with breaking news stories from around the nation, including headlines from the hip hop and entertainment world. Click here to subscribe to our newsletter. 
(Photo: Wavebreak Media Ltd/Veer/Corbis)