Judge Rules Against Brett Farve In Defamation Suit Against Shannon Sharpe
A federal judge ruled that Sharpe's comments about Farve were "examples of protected, colorful speech referring to needy families in Mississippi."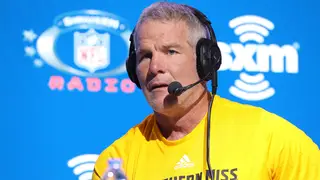 Following comments that Sharpe made about Favre's alleged misappropriations of Mississippi welfare funds, the former Green Bay Packers quarterback filed the lawsuit in February claiming that the Hall of Fame tight end made "egregiously false" statements about him when co-hosted FS1's Undisputed.
During an episode of sports talk show Undisputed in September 2022, Sharpe accused Farve of "taking from the underserved" and that he"stole money from people that really needed that money."
U.S. District Judge Keith Starrett stated in his ruling that Sharpe's comments about Farve were "examples of protected, colorful speech referring to needy families in Mississippi."
Starrett also stated in his ruling that "no reasonable person listening to the Broadcast would think that Favre actually went into the homes of poor people and took their money − that he committed the crime of theft/larceny against any particular poor person in Mississippi."
Although Favre has not been charged in the investigation, he along with more than three dozen people who have been sued by the state "to recover more than $77 million in misspent funds from the state's Temporary Assistance for Needy Families program." Instead of the funds going to the most vulnerable people in the state, the money was used for projects at Farve's alma mater, the University of Southern Mississippi, and benefitted wealthy residents in the poorest state in the country.
"I wasn't going to issue an apology because if I'd have issued an apology I'd have felt I'd done something wrong," Sharpe said during the show. "I just hope the people of Mississippi have their day in court."