High School Girls Basketball Announcer Calls Team N-Word For Kneeling
The Oklahoma man apologized after the comment was picked up on a hot mic.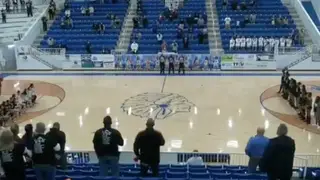 An Oklahoma high school basketball announcer was caught on a hot mic using the N-word while referring to a team that took a knee during the national anthem to protest the criminalization of Black and brown bodies.
TMZ obtained the livestream on Friday (March 12) that shows the announcer, identified as 44-year-old Matt Rowan, using the racial slur twice as the anthem played over a loudspeaker prior to the Norman High School girls faced off against Midwest City in a playoff game.
"They're kneeling? F*****g n*****s. I hope Norman gets their ass kicked. F*** them. I  hope they lose. They're gonna kneel like that?" Rowan said. After muttering indistinguishable words, the announcer once again uses the N-word to refer to the students.
Rowan later apologized and blamed the incident on a sugar spike as the result of Type 1 Diabetes, TMZ said in an update. But reaction to the offensive comments was swift. Norman Public School Superintendent Dr. Nick Migliorino issued a statement via Facebook.
"We condemn and will not tolerate the disgusting words and attitudes of these announcers," he wrote in-part, adding that hate speech has no place in the school and broader society.
Norman Coach Frankie Parks tweeted that the announcer's racist comments are precisely why the players kneel.
The National Federation of State High School Network, which produced the livestream, claims it's investigating the incident.
"The NFHS Network firmly condemns racism, hate and discrimination, and there is no room for this in high school sports or anywhere," the organization posted Friday (March 12).
TMZ reports that the crew of announcers have been pulled from the rest of the Oklahoma 6A basketball tournament.