Ketanji Brown Jackson Pens Rare Post-Execution Dissent After Missouri Executes Kevin Johnson
A special prosecutor alleged racial bias against Johnson's prosecutor who was also involved in the Michael Brown case in Ferguson, Mo.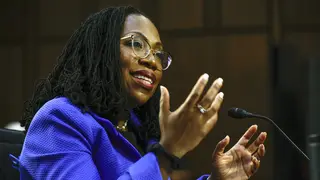 Supreme Court Justice Ketanji Brown Jackson authored a post-execution dissent Wednesday (Nov. 30) in opposition to the majority on the high court who voted not to intervene in Missouri's execution of a Black man convicted of fatally shooting a white police officer in 2005.
Kevin Johnson, who didn't deny shooting Kirkwood police officer William McEntee over allegedly causing his younger brother's death, was executed on Nov. 29 by lethal injection at the state prison in Bonn Terre, Mo., the Associated Press reported.
The next day, Jackson filed her dissent in what LawAndCrime.com said was an unusual move. She argued the Missouri Supreme Court refused to follow "prescribed procedures" to give Johnson, 37, a chance to have his case reviewed. Justice Sonia Sotomayor was the only other high court justice who joined Jackson's dissent.
The dissent, which focused on the death sentence – not Johnson's guilt or innocence — was based on a special prosecutor's analysis after the conviction that found alleged racial bias by the prosecutor Robert McCulloch.
In 2014, McCulloch was the St. Louis County prosecutor who oversaw a grand jury's decision not to prosecute Ferguson police officer Darren Wilson for his fatal shooting of Michael Brown Jr.
The AP reported that McEntee, 43, was one of the officers who went to Johnson's home on July 5, 2005 to serve an arrest warrant on Johnson for allegedly violating his probation for assaulting his girlfriend.
When the officers arrived, Johnson awoke his 12-year-old brother, Joseph Long, who ran to a house next door, according to the AP. Joseph had a seizure and collapsed at the neighbor's house. At his trial, Johnson testified that McEntee prevented his mother from entering the house to help his brother, who died shortly after the incident.
That evening, Johnson shot McEntee while he was sitting in his squad car, the AP reported. Johnson later returned to the scene, found McEntee still alive, and fired again, killing him..
Johnson's attorney argued that his client received a death sentence "not for his crimes, but because he [was] Black and his victim was White," according to LawAndCrime.com.
In his stay of execution application, the lawyer noted that special prosecutor E.E. Keenan found "strong evidence of racial discrimination by McCulloh's office."
The AP reported that Keenan filed a motion in November to vacate Johnson's death sentence because race played a "decisive factor."
But St. Louis Circuit Judge Mary Elizabeth Ott, who appointed Keenan, declined to halt the execution, and a stay of execution appeal to the Missouri Supreme Court also failed.
Keenan's review found that McCulloch's office handled five cases involving the death of police officers over 28 years. McCulloch sought the death penalty in four cases involving Black defendants but didn't pursue the death penalty in the case involving a white defendant.
LawAndCrime.com noted that Keenan also found that McCulloch deliberately attempted to exclude Black jurors from Johnson's trial. "These facts and others leave no serious doubt that Mr. McCulloch's office discriminated," Keenan wrote. "The judgment must be set aside so that a lawful trial and sentence may proceed."
At issue in this case is a Missouri law that grants prosecutors a three-step post-conviction process to review the validity of a conviction.
St. Louis Post-Dispatch columnist Tony Messenger wrote that the state supreme court "shrugged at the failure to follow due process" regarding Keenan's motion to vacate Johnson's death sentence, suggesting that Johnson's stay of execution appeal was doomed to fail.
But Justice Jackson chastised the court for not following the procedures.
"Missouri has created a system in which prosecutors may assess the validity of a state prisoner's final conviction, and having done so, it was required to comply with due process when applying that law in Johnson's case." Jackson wrote.
"In rare cases, a litigant can credibly claim that a State's erroneous interpretation of, or refusal to comply with, its own law can amount to a federal due process violation. This is one of those rare cases."
Jackson said Missouri's high court "turned this straightforward procedural statute on its head" by explaining away Johnson's denied hearing. She said the court skipped over the mandatory second step, which required the court to order a hearing and issue findings of fact and conclusions of law.
If the hearing was held, the court could have heard "new evidence relating to the trial prosecutor's racially biased practices and racially insensitive remarks."