21 Questions With Blac Youngsta, The Memphis Man Of The Hour
The 'Church On Sunday' artist takes on hometown slang, Instagram flexing, South Memphis beginnings and more for BET's 21 Questions.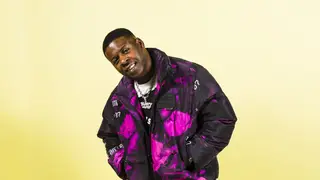 Blac Youngsta's 3.9 million Instagram followers may think they have all there is to know about him through the lens of a smartphone and around 70 posts worth of unfiltered Instagram hilarity.
But as he's seated at BET's New York headquarters, snacking away on an assortment of chocolate candies, it becomes clear that his social media reputation is merely a snapshot of his reality. The South Memphis-emerged rap artist learned early on that he possessed a special versatility about life. Battling poverty, struggling for employment and maneuvering legal charges, Blac's psyche suffered major blows at as young as 7-years-old. Recessed in destitution, his spirit may have fallen a few times, but never faltered.
Instead, it bred his magnetic personality and humorous charm to elevate him to his first profitable status: party hosting. Working up the hustle right on his home turf, the mingling and mixing of his house party affairs opened a new window of networking and pivoted him to music. Blac's 2012 tape, Fast Bricks, ushered in his new passion and strung along two more installments­ (Fast Bricks 2 and Fast Bricks 3) for a mixtape series that carried into 2014 and would eventually attract even more Memphis attention.
It was his 2015 "Heavy" single, however, that would attract the ear of his fellow Memphis-native and now CMG label leader Yo Gotti and transition Sammie Marquez Benson to beyond the city limits of Grind City and onto hip-hop's national stage. Fast-forward to 2019, and Blac is now gearing up for his sophomore studio undertaking, Church On Sunday.
While the project will reserve all of the wild, fun and fly musical experiences that Blac Youngsta fans have come to know and love, it will present a more lyrically-evolved artist with new purpose and new messages to spread to the world.
BET caught up with the 29-year-old to learn more about this new level, the makings of the Church On Sunday sophomore project, becoming an ordained minister, social media flexing, and more.
What's a phrase that only people from Memphis would know?

"'Knowamtalmbout [Know what I'm talkin' about]?' That, or 'Issowit [It's over with].' 'Yurrme [You hear me]?' is another one. I say stuff like that all day."

Who in Hollywood throws the best parties?

"Me! [laughs.] Well, I'd say me, Diddy and Drake, too. They throw the classy sh**. You go to their sh** and it's a more sophisticated crowd. My sh** more ratchet. So, classy parties, I'd give to Diddy. In between ratchet and classy—mixed crowd— Drake. Ratchet ratchet—that's me." 

What can you get in Memphis that you wouldn't be able to find anywhere else in the world?

"Chitterlings. No! Honey-gold wings. You can't find that sh** nowhere. It's just chicken in a honey-glazed sauce. It's flooded in that sauce."

What were your thoughts on the #CucumberChallenge—demeaning or all in good fun?

"I think it was live! Whooty-woo. That's another Memphis thing. It just means I don't want to say too much [laughs.] I f**k with the cucumber challenge. They need to make an apple challenge."

Who's your celebrity dream girl?

"Lady Gaga. I've never met her. I've even offered to pay people to meet her, and I haven't yet."

What inspired you to become an ordained minister?

"I just wanted to see more love.

I don't really think there was that much love out there. It came about because I was just talking about it on a plane, and the next day, Epic [Records] called and said, 'No, you should really do that.' So I went and did it, and I just want to marry [a couple] and pay for their wedding. I want to give them a wedding they've never had before because some people can't afford things they really deserve. I didn't know it was so much love out there!

I'd want everyone to know that whether you get picked [as his selectees for an all-expenses paid wedding] or not, the fact that you stepped up and was bold enough to try, I really appreciate that. You really love your significant other.  I want them to call my number for the wedding: (877)- REV-BLAC."

Have you picked anybody yet?

"No, we're still looking through about 6,000 people and got 30,000 more to go."

What's your favorite bible scripture?

"I don't really have one. Every bible don't even say the same thing. I've read so many different bibles, so I just pray to God. I go to church and anything I want to talk to God about, I ask him."

If you could pick church to be on any other day of the week, which day would it be?

"Sunday is the only day, or Monday. Any day I ain't got sh** to do. On any day, though, I'd stop for God."

Does your lifestyle affect your relationship with God in any way?

"No, I feel like God understands. Some of [my lifestyle] probably does. But He forgives you. I pray, and I talk to Him about what's going on with me."

Would you rather be married to a 10 with a horrible personality, or a 5 with an amazing one?

"[Sings.] Give me a high five! When I look at a woman, I don't look at her and judge her off looks or because she's super fine."

What are some of the basic essentials for an Instagram flex?

"Man, you gotta be living this sh** and doing it for real. You can fake it and flex by faking it, but I'm doing it for real. My lifestyle really like this so I can't even give no advice on how to lie about it."

What are your thoughts on "clout-chasing"?

"This sh** didn't start coming about until p**sy a** n**gas started coming back. When's the first time you heard of clout-chasing? Like a year ago? And how long hip-hop been around? So, anybody screaming that clout-chasing sh** probably part of the new generation. Really, I don't give no f**ks about clout-chasers."

How do you feel about Instagram removing likes from posts?

"I think it's a-f**king-mazing [amazing] only because nowadays kids kill themselves so fast.You have some kids that post on Instagram and get lots of likes and then other kids might not. Those kids may not look up to par, or their mom didn't buy them new shoes this month. But, they have an Instagram page that they still post on and get bullied on. Even for celebrities; their kids go through sh**. They got Instagram and sh** and have to see bad comments because their parents did something and [they] ain't even do the sh**."

Do you think reducing the perception of worth on social media platforms will have a significant effect on mental health?

"I feel like we have to protect our kids, and I have three of them, so I'm definitely with protecting the kids. They need to remove comments, too. The comments are more evil. Everytime I do something wrong, they just flood my sh** with bad comments, like, 'I hope you die.' This and that. I'm a man, though. I can accept that and push past it. I don't live through Instagram. But kids live through it and for it. It's all they know."

What's your least favorite part about being famous?

"I miss going out the door, grabbing my gun, throwing it on my hip, grabbing my little bank roll and heading out to the neighborhood or going somewhere by myself. Being able to walk around and people not recognize me. I miss the privacy. I miss being in the club and being able to dance without someone watching me. I miss that vibe.

Now, as soon as a girl shakes her a** on me, everybody breaking the cameras out. I hate that I always got a big a** tip somewhere, too. Like, no matter how cheap something is that I'm buying—$4, McDonald's, $7—they want me to leave a tip. Man, I'm not leaving no high a** tips just because of who I am. I'm gonna stop doing that sh**."

You've openly talked about some of the things you've done to survive poverty in your past living in South Memphis. How would you say you mentally survived it?

"I got through that sh** by seeing and thinking about my kids and just knowing I have to go home to them. It was easy for me because I always wanted out. Some people never want out, so it affects them in every way, including mentally. I made it out. Thank God. I'm not going back. I'm not ever going back. That sh** is over with."

Would you rather take a year in jail or lose one year of your life?

"A year in jail because it's simple: I'm gonna live good in jail anyway. I can thug it out there."

Name one thing hip-hop needs to leave in 2019.

"You know how rappers see each other and be like, "Aye, let's link in, bro! Let's do a joint, etc., etc." and they act like they want to do a song? Everybody just too nice. I don't like all that nice sh** [when it's fake]...

They need to leave all that h*e a** sh** behind. It's simple as that—all that lying and flossing sh**, man, we ain't got time for that sh** next year. Start socking n**gas in the eye. If a n**ga play with you, sock his a** in the eye. You ain't got to kill each other, but it's simple. Everybody be lying and playing like they nice and cool with each other, but behind closed doors, they don't like each other. Man, f**k that. That ain't hip-hop. If a n**ga is a opp, he's a opp. I don't care how much money is involved. We ain't f**king with the opposition."

You mentioned being a fan of Gangsta Boo and said she's one of the best Memphis rappers out there—even harder than some of the male artists. Who's a female artist right now that you feel similarly about?

"I like what Megan [Thee Stallion] been doing. There's somewhere else that I can't remember her name right now. But I'm going to keep it 100 too: Nicki [Minaj] is the G.O.A.T. forever.

Every female rapper is bumping. I love Cardi B, she's probably the No. 1 on my list of female rappers. But I don't know, this is hard to pick! But it's somebody that's harder than them that I can't even think of the name. But Nicki and Cardi are my top two for sure."

Will 'Church On Sunday' have any surprise gospel appearances or guests on it?

"No gospel, just street gospel. I'm the one singing. I'm really rapping on this album. It's more real-life. I put my all into this sh**. It was not an overnight process and it took me a year and a half to do the album."

What should your fans take away from Church On Sunday after listening to the album in full?

"Don't ever let no one stop you, and don't slow down for no one. And don't stop when you're going through real-life problems. Just do not give up. If you give up, you're not hurting anybody but yourself."