Donald Glover Tweets 'Deadpool' Script For Canceled Series
He's got time cuz.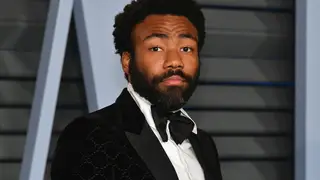 Several days ago executives at FX Networks announced that a highly anticipated Deadpool series, helmed by Donald Glover and his brother, Stephen, would no longer be happening. "Due to creative differences, FX, Donald Glover, Stephen Glover and Marvel Television have agreed to part ways on Marvel's Deadpool animated series," the network said in a statement Saturday. "FX will no longer be involved with the project. FX and Marvel have an ongoing relationship through our partnership on Legion, which will continue."
However, the Emmy-winning writer, producer and star of the hit Atlanta on the FX network, tweeted out parts of a script for the planned animated series stating, "For the record: I wasn't too busy to work on deadpool."
In the script entitled "Finale" the mercurial mercenary is being driven down a dirty road in Kenya when he wakes up from a Ben Carson surgery nightmare. He is informed by a woman named Esiankiki the he has been hired to protect a rhino named Sudan, the last male northern white rhino on earth.  Given that timely news item (the real life Sudan, the last male northern white rhino, sadly died on March 20, marking the inevitable extinction of his species) and jokes about Sanaa Lathan biting Beyonce in the face, this is a script that Glover finished very recently. 
The dialogue includes some humurous speculation by Deadpool on why the animated series was canceled, like maybe it's not a good time for a "violent, gun-loving white man ranting on television" or that it was "too black."
The inspired tweets mark Glover's first posts on the social network since purging his account in late 2014. In an interview with The New Yorker, Glover explained the move by saying, "I felt like social media was making me less human, and I already didn't feel that human."
Nevertheless, the Emmy winner felt Twitter was the perfect place to share what could have been (or may still be with a different partner) because he definitely knows how to manage his time. You can read the full thread HERE.
The sequel to the Deadpool film starring Ryan Reynolds and Glover's Atlanta co-star Zazie Beetz is scheduled to hit theaters on May 18.