So Many Things Happened Between The Game And Meek Mill Last Night
Sean Kingston and Drake got in on the petty.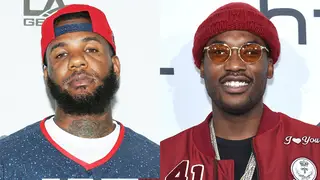 The feud between The Game and Meek Mill is progressing at a dizzying speed, so we don't blame you if you're having trouble keeping up. The two rappers traded multiple shots on social media over the past 24 hours, with Drake and Sean Kingston both taking sides as well.
Before we get into the latest, a quick catch up: the beef between the two rappers started sometime last week, when Game fired the first shot against the Philly MC at his show in Miami. He also called Meek a snitch on a new track, "I Never Heard Of That." Turns out, he was referring to allegations that Meek tattled on Game for robbing Sean Kingston.
Now, onto the latest developments. After trading a number of shots (and memes) on Instagram all day Saturday, Meek declared he wanted nothing further to do with Game or his drama:
Game responded by posting a screen grab of his incoming calls, seemingly proving the opposite is true. "Don't call my phone tryna back out this a-- whoopin...," Game captioned the photo:
Game then posted a handy video sharing his entire side of the story. "You know f*cking well that your a** gor robbed in the club and robbed for all your jewlery." Continuing that Kingston then called Game to say, "Game, big bro, somebody robbed me can you help me get my chains back." He then blamed Kingston for detectives arriving at Game's house, and considering him as a suspect.
Then, Sean Kingston, whose robbery seemingly started this whole thing, chimed in with a four-part series of posts dragging Game and defending Meek:

Drake, who recently collaborated with Game, felt the need to make his allegiance clear by posting The Game's 1992 cover art on Instagram encouraging his fans to go pre-order the project:
Oh! And Beanie Sigel didn't want to be left out of all the fun:

Could this be the end of it? Not a chance. We'll keep track of this mess so you don't have to.