Usher Croons To Saweetie Days After Keke Palmer Boyfriend Drama
The R&B legend regularly sings to fans and celebs at his Las Vegas residency show.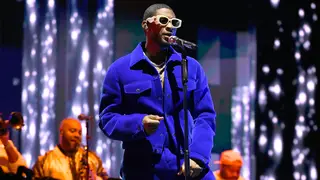 Usher has the hottest show in the streets.
The My Way Las Vegas residency show kicked off in 2022 at The Colosseum at Caesars Palace and later moved to Park MGM.
In a new viral video, the legendary singer serenades rapper Saweetie who smiles during verses from "There Goes My Baby," and "My Type," on Friday, July 7.
The California rapper, who recently celebrated her 30th birthday, didn't sing along but looked stunning in a plunging butterfly-shaped top that was adorned in black and silver crystals.
The most recent serenade comes just days after Usher sang to Keke Palmer who sang and danced along to "There Goes My Baby." The 29-year-old was dressed in a sheer dress with a thong bodysuit underneath. The outfit triggered the father of Palmer's son, Darius Jackson who retweeted a post showing Palmer at the show, and commenting, "It's the outfit tho.. you a mom."
Fans thought Jackson, 29, was joking with a play on the phrase, "I'm a Motha," that Palmer has popularized since giving birth to baby Leo in February, but Jackson later doubled down writing, "We live in a generation where a man of the family doesn't want the wife & mother to his kids to showcase booty cheeks to please others & he gets told how much of a hater he is. This is my family & my representation. I have standards & morals to what I believe. I rest my case."
Palmer has since released merchandise including  two shirts, "IM A MOTHA" and "Stevie to the bullshit" the shirts are available on Palmer's website.
Another clip is circulating of Usher singing to Taraji P. Henson as the Academy Award-nominated actress dances with him and fans are eating it up.