Keke Palmer Drops 'I'm a Motha' Merch Amid Boyfriend Mom Shaming Drama
The 29-year-old star released two shirts amid the drama with the father of her son.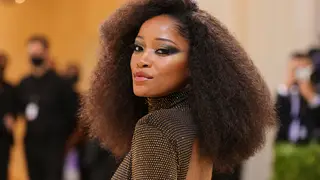 When Keke Palmer's boyfriend Darius Jackson ignited a social media firestorm of controversy when he tweeted about the outfit she wore to Usher's Las Vegas residency show, fans rallied behind the child star turned actress.
"It's the outfit tho.. you a mom," Jackson wrote on Wednesday (June 5), tweeting a viral video of the 29-year-old star being serenaded by Usher. Palmer was dressed in a sheer black dress over a matching thong bodysuit.
Fans thought Jackson, 29, was joking with a play on the phrase, "I'm a Motha," that Palmer has popularized since giving birth to baby Leo in February, but Jackson later doubled down writing, "We live in a generation where a man of the family doesn't want the wife & mother to his kids to showcase booty cheeks to please others & he gets told how much of a hater he is. This is my family & my representation. I have standards & morals to what I believe. I rest my case."
Since the initial incident, Palmer has not addressed it directly. However, she did share a video montage of photos of her and Leo, writing on Instagram, "One thing is certain and one thing is true, IM A MOTHA, through and through!"
She added that she was dropping two shirts, "IM A MOTHA" and "Stevie to the bullshit" the shirts are available on Palmer's website.
Palmer wrote, "To all my mom's out there, how did your baby change you?? Mine empowered me! On such another level, my perspective changed because when my baby is good I'm GREAT! Look at that face! Gratitude galore."
Additionally, Palmer recently shared a video of herself dancing to a viral clip of a previous interview set to a hip-hop beat, in the song, she lipsyncs to herself saying, "You ain't stopping what's going on with me, sweetheart. So, if you about to act up, I'm 'bout to link up."
Jackson has also reportedly deleted pictures of Palmer from his Instagram page.
Palmer announced the birth of her first child on February 27, whom she shares with Jackson. She wrote on Instagram, "Born during Black History Month, with a name to match! LEODIS ANDRELLTON JACKSON, welcome to the world baby Leo."
Most recently, Palmer dropped a 10-track project and its accompanying 40-minute film focus on Keke's personal experiences as an actress and singer in the entertainment business. Big Boss is available on streaming platforms now.
Next week, Palmer will be giving a talk and showing her film at The Howard Theatre in D.C., tickets to the event are sold out.