Find Out Which Empire Cast Member Wants Out of the Show
The real drama is behind the scenes.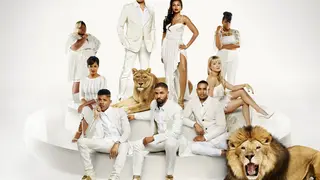 Not all is well in the House of Lyon. Though Empire is one of the hottest shows on TV and has created a new generation of stars, one member of the cast wants out. According to Page Six, Trai Byers, who plays Lucious Lyon's eldest son, Andre Lyon, is itching to leave the series.
According to sources, Byers isn't happy on the show because he's not getting the shine he thinks he deserves. "Trai wants out," says an insider. "He feels that he studied at Yale and he's a 'true thespian' ... The character is beneath him. He has an idea of himself as being this big Shakespearean actor."
While Byers was thrilled to have landed the role on Empire when the series debuted, sources said he doesn't agree with the direction the show's taken. "At first, being on Empire was major for him. But he feels his character is not as important this season, and he hates not being the star," said a source. "He thinks he has the acting chops of Taraji [P. Henson] and Terrence [Howard]. He doesn't get how the show benefits him, and he feels he has way too much talent when he's not the star by any means."
Another insider adds, "Trai threw a temper tantrum during filming in the past few weeks, saying, 'I don't get to do enough, I might leave.' But producers called his bluff and said, 'Fine, if you're not happy, we don't need you.'" The source continues, "He thinks he is a brilliant guy who deserves a better role, but he's hardly one of the most popular or dynamic actors on the show. He also fired all his reps for not getting him big movie roles."
Hmm. If Trai exits, where will that leave his on-screen wife, Rhonda, played by Kaitlin Doubleday, and even his real-life relationship with fellow cast member Grace Gealey, to whom he's engaged? Watch Kaitlin talk about working on Empire on The Real, below:
BET.com is your No. 1 source for Black celebrity news, photos, exclusive videos and all the latest in the world of hip hop and R&B music.