Police Brutality Caught On Camera: 22 Videos That Explain Why Black Lives Matter
Tear gas, pepper spray, batons and brute force used against law-abiding citizens.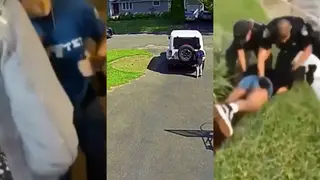 Hundreds of thousands of people have taken to the streets over the past week to protest the police killings of George Floyd, Breonna Taylor, Sean Reed, Ahmaud Arbery and hundreds of other Black men and women at the hands of police. 
The ongoing protests in 75 American cities, took a chaotic turn this weekend as police were recorded tear-gassing protesters in Minneapolis, driving NYPD vehicles through crowds in Brooklyn, spraying men and women with rubber bullets in Los Angeles and tasering a Black couple in Atlanta trying to make it to their home.
As tensions rose during protests, one thing became very clear: in many cases, things remained non-violent until police showed up. 
Here are 22 videos from around the country showing police attacking peaceful protestors, citizens minding their own business and some of the nations most recent incidents that have happened in the midst of Black Lives Matter Movement. 
BET has been covering every angle of George Floyd's death in police custody, other social justice cases and the subsequent aftermath and protests. For our continuing coverage, click here.
Police Officer Coughs On Bystander

Trumbull, Connecticut

Officers Pin Down Black Girl And Punch Her In The Torso

Ottawa County, Ohio

Clayton County, Georgia

Washington, D.C.

Sarasota, Florida

Asheville, North Carolina

Indianapolis, Indiana

New York, New York

Fort Lauderdale, Florida

Orlando, Florida

Los Angeles, California

Denver, Colorado

Chicago, Illinois

ERIE, PENNSYLVANIA

MINNEAPOLIS, MINNESOTA

louisville, kentucky

NEW YORK, NEW YORK

HOUSTON, TEXAS

ATLANTA, GEORGIA

LOS ANGELES, CALIFORNIA