Sinbad Slams Justin Timberlake For His 'Hypocritical' Prince Tribute In Epic Rant
The comedian spared no words.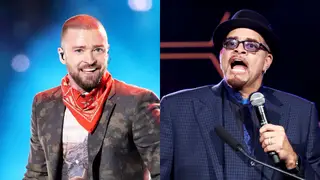 Justin Timberlake's Super Bowl 52 halftime show performance on Sunday night was met with mixed reviews from viewers. Many of those disgruntled were Prince's fans who reiterated the late musician's sentiments where he firmly disapproved of the use of holograms — or, in this case, projections — especially when it came to his own image.
One person who unapologetically dragged JT for the gesture was comedian Sinbad, and in case you thought he would eventually backtrack, he followed up his initial tweet with a video.
According to Us Magazine, back in 1998, Prince spoke about the use of holograms, calling them "demonic" and stressing that he would never want one, himself.
"That's the most demonic thing imaginable," he told Guitar World. "Everything is as it is, and it should be. If I was meant to jam with Duke Ellington, we would have lived in the same age. That whole virtual reality thing... it really is demonic. And I am not a demon... that'll never happen to me."
As rumors of the hologram began to spread on social media the day before the performance, Prince's former fiancée and longtime collaborator Sheila E. also tweeted that the "Purple Rain" singer told her never to let a hologram of him happen. She also reassured his fans that she had spoken to Timberlake, who told her that one was not going to be used during his show.
Once the projection was shown during JT's set, seeing him go against his apparent word, the internet was furious, with Sinbad taking to Twitter to air out his frustration in the below tweet.
Hours after his tweet went viral, he hopped back on the social media site to let everyone know that he stands by his words, further explaining just why he had a problem with JT's decision.
In it, he mentioned Timberlake and Prince's reportedly strained relationship as well as times where the "Cry Me a River" singer took public jabs at the legend.
Where do you stand on this?