Mac Miller Drug Dealer Sentenced To Nearly 11 Years In Prison
Ryan Michael Reavis was sentenced to more than what probation officials recommended but less than what prosecutors were seeking.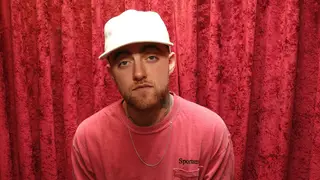 The middle man who provided rapper Mac Miller with counterfeit oxycodone pills that resulted in the rising artist's death has been sentenced to nearly 11 years in prison.
According to Rolling Stone, Ryan Michael Reavis, who was one of the three-drug dealers charged in the case that killed the rapper in 2018, said that he was unaware that the pills were laced with fentanyl. The final sentencing of 10 years and 11 months was more than what probation officials recommended but less than what prosecutors were seeking.
Miller's mom, Karen Meyers, wrote an emotional statement read by prosecutors that ultimately levied Reavis' punishment determined by the U.S. District Judge Otis D. Wright II.
"My life went dark the moment Malcolm left his world. Malcolm was my person, more than a son. We had a bond and kinship that was deep and special and irreplaceable. We spoke nearly every day about everything – his life, plans, music, dreams," the statement said.
Reavis also shared a statement in court and said:
"This is not just a regular drug case. Somebody died, and a family is never going to get their son back. My family would be wrecked if it was me. They'd never be all right, never truly get over it. I think about that all the time. And I know that whatever happens today, I'm the lucky one because my family is here and I'm here and I'll be with them again. I feel terrible. This is not who I am."
"My perspective has changed. My heart has changed."
Assistant U.S. Attorney Elia Herrera also shared with the judge that a recovered text message exchange with Reavis and an associate revealed that he was still dealing pills nearly a year after the Spinning rapper's death.
Reavis was also sentenced to three years of supervised release with drug testing.
Stephen Andrew Walter was also charged in the case and decided to take a plea deal with a 17-year prison sentence back in Oct. 2021. He admitted he supplied the fentanyl-laced pills to Reavis.
The case for co-defendant Cameron James Pettit is still "pending," prosecutors say, and he is the third person charged in the case.