Whoa: You Won't Believe The Major Role Paula Patton Played In Robin Thicke's Success
He owes her everything.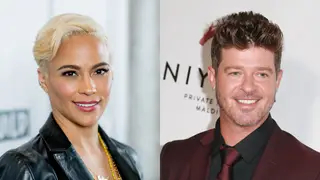 "We did it together since we were kids. I was with Robin since I was 15 years old," she said. "You know, Robin and I wrote a lot of songs together. I have, my name on the albums is Max Haddington."
As for why she chose that name and the reason behind concealing hers in the credits?: "I was like 'well Max Haddington will just seem like another writer with you, so it doesn't seem like you're writing with your girl,'" she said.
Now, if you go back and look under the tracklistings of Robin's albums, you'll see that "Max Haddington" assisted with more than half a dozen tracks on his LPs Sex Therapy: The Experience, Love After War, and Blurred Lines.
Paula Patton and Robin Thicke officially split in 2015. They were married 10 years earlier. The two are reportedly still friends, partially since they've known each other for so long, but in January 2017, Patton accused Thicke of domestic violence and drug abuse. That was followed by a temporary restraining order, but later worked out and now, the couple share joint custody of their son Julian.

Just know that if Robin Thicke ever comes out with new music, you'll probably know how much Paula really helped out. Watch the full interview segment below.