Soul Train Awards '20: Remembering Those We Lost In 2020
We commemorate the talents that left us this year.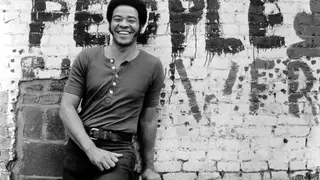 The landscape of music would look drastically different without the contributions of its forebears. Though they weren't always credited or recognized, numerous Black pioneers laid the foundation of what would become modern music. And it started with soul music, from which some of America's most influential artists – Aretha Franklin, Diana Ross, Marvin Gaye and Michael Jackson – forged their legacies by developing their everlasting sounds. Their music has continued to influence the generations to come after them. Unfortunately, this year saw the loss of some of these iconic greats who never got their proper roses while they were still here. As we approach the 2020 Soul Train Awards, we're remembering those we lost this year in honor of their memory.
 
Bill Withers

In April, the world awoke to the somber news that a light among the blues and soul music world was lost in the passing of Bill Withers. His family confirmed to the Associated Press that the legendary musician died from heart complications at the age of 81. The loss struck many acutely as people had been finding solace in his uplifting, timeless classics such as "Lean On Me" and "Lovely Day," amid this especially trying year. While Withers' retired from the music industry in the mid-1980s, his brief but influential career will impact generations to come.


Andre Harrell

The R&B and hip hop community was dealt a monumental loss when legendary music executive Andre Harrell passed away on May 8 at 59 years old. As the founder of Uptown Records, Harrell was one of the chief architects of New Jack Swing. Not only that but the music icon had a huge pivotal role in the careers of many of some of the industry's most influential figures, including Diddy, Teddy Riley, Jodeci, and Mary J. Blige.
 

Little Richard

The industry lost a founding pillar with the passing Little Richard. The rock pioneer passed away at the age of 87 on May 9 after a long battle with bone cancer. Heralded as the 'architect of Rock and Roll,' Little Richard laid inroads for many artists of today with some of the most foundational songs, including "Tutti Frutti," "Slippin' and Slidin,'" "Long Tall Sally," "Lucille," and "Good Golly Miss Molly." He was laid to rest in a private ceremony at the Oakwood University Memorial Gardens Cemetery in Huntsville, Alabama.

Betty Wright

As the music community was still coming to terms with the back-to-back loss of Andre Harrell and Little Richard, the world saw the loss of another music icon. On May 10, R&B/soul legend Betty Wright passed away at the age of 66 after a long battle with cancer. Though she was best known for her 1971 hit, "Clean Up Woman" Wright was foundational to modern R&B. Her music would be sampled by other artists including SWV, Sublime, Willie D, Afrika Bambaattaa, Beyoncé, and Chance the Rapper. Speaking to NPR, Steve Greenberg, president of S-Curve Records, called her "one of the most significant women in the history of R&B music, period."

Kool & the Gang's Ronald "Khalis" Bell

On September 9, Ronald "Khalis" Bell, co-founder of Kool & the Gang passed away at the age of 68. Bell was behind some of the group's biggest songs including "Celebration," "Cherish," "Jungle Boogie" and "Summer Madness." The pioneering funk band's influence on modern music is irrefutable. Kool & the Gang released a platinum or gold-certified album every year between 1979 and 1984 according to Rolling Stone, and the group is the most sampled R&B band of all time, from the Beastie Boys and Madonna, to Jay-Z, Janet Jackson, and Cypress Hill.

Toots Hibbert of Toots and the Maytals

The reggae community lost one of its pillars when reggae legend Frederick "Toots" Hibbert passed away in early September. He was 77. As the co-founder and frontman of the pioneering band, Hibbert is credited as one of the pioneers who helped introduce Jamaican music on the global stage. NPR called him a "one of the most distinctive and important voices of reggae."
 

Roy Hammond

Soul singer, songwriter and producer Roy Hammond lost his battle to liver cancer on September 16, according to Billboard. He was 81. Born in Georgia, Hammond originally dreamed of becoming a professional boxer but was later drawn to music. His spot in music history was cemented when he wrote and produced the Honey Drippers "Impeach the President," aimed at then-president Richard Nixon. According to Billboard, the track has been sampled more than 600 times by numerous hip-hop luminaries, including. LL Cool J, Tupac, N.W.A, Biggie, Aaliyah, Snoop Dogg, and J. Cole.
 

Johnny Nash

Johnny Nash, who was best known for his 1972 hit, "I Can See Clearly Now," passed away on October 6. His son, Johnny Nash Jr., confirmed to the Associated Press that his father died of natural causes in his home in Houston, Texas at 80 years old. Nash made his foray into the music industry in his late teens, releasing several chart hits and covers. He is famously credited for helping launch the international career of the late Bob Marley.