Here's Jamie Foxx's Reaction to Rumors That He's Dating Katie Holmes
The actor responded with two words.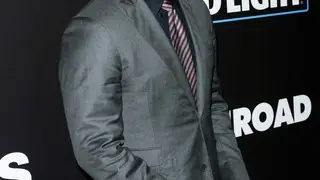 Based on the rumor mill, Jamie Foxx has been off the market for some time, dating his friend Tom Cruise's ex wife Katie Holmes. And while it's all been hearsay for months, the Oscar winner is finally speaking on their alleged romance — sort of.
The Ray star was making his way through LAX airport on May 22 when he was approached by paparazzi who asked him about their rumored romance. His response was pretty blunt and to the point.
"Fake news, fake news," he awkwardly said, as shown in a video obtained by the Daily Mail.
After saying the rumors held no truth, Jamie redirected the conversation to his new TV show Beat Shazam.
The paparazzo didn't let the Oscar winner leave without getting something out of him, so when he mentioned they were "really cute together," Jamie responded, "I'm... thanks for saying I'm cute!"
Though he denies their romantic involvement, Jamie was spotted with Katie in Paris on May 12, where they were coupled up in a hotel together. Could this just be a platonic relationship or something more? Who knows? 
Get the latest on Jamie's new hosting gig in the BET Breaks video, above.