Dwayne 'The Rock' Johnson Cleared Up If He Identifies As Black Or Samoan With This Tweet
The former pro wrestler explained why he was never billed as a "Black wrestler."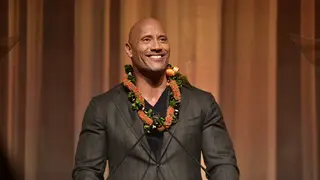 The conversation all began when some suggested WWE CEO and Chairman Vince McMahon purposely kept Kofi Kingston from becoming a champion during SmackDown Live.
"This is a very believable storyline, in that it features Vince McMahon going to extraordinary lengths to stop a black man becoming champion," one Twitter user said. Another wrote, "Ever heard of @TheRock?"
Then some began asking whether Johnson considers himself to be one of the few Black people to win the top belt in the WWE.
Luckily, Johnson stumbled upon the tweets and cleared the air.
"Glad I came across this and I'll give you guys some context & truth. I identify as exactly what I am – both. Equally proud. Black/Samoan," Johnson tweeted.
Johnson then addressed the claim that he was "booked" as a racially ambiguous wrestler.
"And my friend, let me expand your thoughts a bit here – I transcended race in wrestling so there was no 'booked that way.' Thx guys."
While in the WWE, Johnson, who has a Black father and a Samoan mother, was a member of the Nation of Domination (N.O.D.), a group inspired by the Black Panther Party and the Nation of Islam, according to The Sportster.