'Random' Shooting at Rick Ross Studio Under Investigation
Three luxury vehicles were shot up outside building that houses Rozay's office.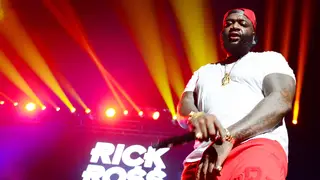 Two women were in an Atlanta recording studio early this morning when they heard gunshots outside a building that houses one of Rick Ross's offices. Several luxury cars were shot up in the parking lot of Twelve Studios around 4 a.m. Monday, reports the Atlanta Journal Constitution.
Police say Rozay wasn't connected to the shooting, nor around when it happened. In a statement, Twelve Studios declared the gun violence arbitrary. "This isolated and random incident is not affiliated with Twelve Studios, any of our staff members or clients; including Rick Ross," reads the statement. "This is the first time in over three years that we have been affected by any criminal activity regarding our property."  
Three vehicles, including a $150,000 Mercedes, were damaged alongside a building window. Police found eight .40 caliber shell casings at the scene.
| CLICK FOR ROAD RAGE: MUSIC STARS WHOSE TOUR BUSES WERE SHOT UP |
The women reported hearing a "loud noise that sounded like fireworks but were actually gunshots" while they were recording. One woman went outside to check on her car when she saw broken glass on the ground. No one was injured.
Though today's shooting wasn't connected to him, the MMG Bawse was the target of a drive-by shooting back in 2013 and he's been in the news recently for his own alleged act of violence. The 39-year-old was released on bond last week after being arrested for allegedly kidnapping and assaulting a grounds keeper.     
BET.com is your No. 1 source for Black celebrity news, photos, exclusive videos and all the latest in the world of hip hop and R&B music.
(Photo: JLN Photography/WENN.com)