Commentary: An Explanation for Increased Black Schizophrenia
It's African-American Mental Health Awareness Week and a new study says Black schizophrenia is overhyped.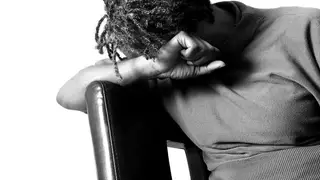 Though you may not have heard of it, African-American Mental Health Awareness Week begins this week at California's UC Riverside. A convening of mental health professionals from around the United States, AAMHAW says its goal can be summed up in one sentence: "Replace misinformation about mental health and erase prejudice, fear, and blame, thereby reducing stigma and disparities to the African-American community." As it stands, the taboos about mental health woes in the Black community are many, and they're only augmented by the fact that just 2 percent of psychiatrists and 2 percent of psychologists are African-American. AAMHAW hopes to help change that, and it turns out the week may be arriving just in time.

The Los Angeles Times recently reported something very frightening: A new study shows that African-Americans, who are diagnosed as schizophrenic at disproportionate rates, might not be suffering from increased instances of schizophrenia at all. Rather, they may be suffering from incorrect diagnoses brought on by biased mental-health practitioners.

"The new study found that in a group of 610 patients seeking treatment at six regional psychiatric clinics scattered across the nation, African-American patients were diagnosed with schizophrenia more than two and a half times as often as were white patients," writes the Times. "That was the case even when the diagnosing psychiatrists based their conclusions entirely on reports of a subject's symptoms and his or her responses to a structured interview, with any hints of the subject's race stripped away."

That doctors were diagnosing Blacks as schizophrenic more often even when blind to race suggested that it wasn't just doctor bias that was resulting in incorrect diagnoses. The behavior of Black patients mattered, too. The authors theorize that "previous discriminatory experiences, and reactions to them, i.e. healthy paranoia," might result in Blacks explaining their anxieties in a way that sounds more psychotic, even when it's not.

The study, published in the Archives of General Psychiatry, ultimately recommends that doctors treating patients of a different race should "consistently challenge their own diagnostic assessments." In other words, don't jump to conclusions and, perhaps, try putting yourself in their shoes. Sometimes, the simplest lessons are the ones easiest to forget.

(Photo: Nanette J. Stevenson/Getty Images)