Black Girl Magic: This Mother And Daughter Are Both Nominated For Emmys At The Same Damn Time
Each of them also expressed how important the accomplishment is for WOC.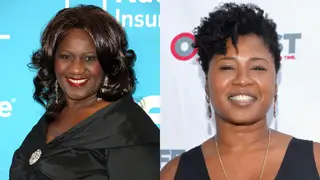 Judge Mablean Ephriam and her daughter Tajamika "Taj" Paxton are making history together.
The two women have been both nominated for Daytime Emmy Awards this year and it's believed to be the first time in the history of the awards that such a feat has been accomplished (for an African-American mother/daughter duo).
Judge Mablean was nominated for Best Legal/Courtroom Program for her show Justice with Judge Mablean. It is her first Emmy nomination. If Judge Mablean wins, she'll be the first Black person to do so in that category.
Taj Paxton has been nominated for Best Special Class Special for Logo TV Network's Kevyn Aucoin: Beauty & The Beast in Me. Paxton is the Vice President of Documentaries at the network. This will be her third Emmy nomination. Her previous two nominations turned into victories as she won awards for the documentaries Out of Iraq and Matt Shepard is a Friend of Mine.
During an interview with TheGrio, Judge Mablean expressed how important her and her daughter's recognition is, especially in closing out National Women's Month.
"Our nomination is happening during an important time in history for women. Two women in the television industry, of different ages; two different generations, being recognized and nominated for a Daytime Emmy award," said Judge Mablean." I thought about the history of African-American women being honored in Hollywood and we now join that small outstanding group of women. The nomination had even greater meaning. We are a first. We are making history. We are trailblazers. We bring hope to women, to young women, to senior women, to African-American women."
Paxton was also excited about the nominations and expressed her gratefulness.
"To have our work acknowledged in the same season is an honor. Even if we're not the first mother/daughter team, we for sure have to be the most delighted," she said. "My mother has been the benchmark for excellence my entire life. She's my champion. She encourages my dreams and her support makes them feel possible. She always says I challenge her and it gets on her nerves. Secretly, I think she likes that I can match her, grit for grit."