Breaking: Tamar Braxton Reportedly Files For Divorce
She has been married to Vincent Herbert for nine years.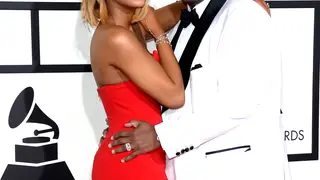 Sad news to report. After months of speculation and rumors, Tamar Braxton has filed for divorce from Vincent Herbert. 
According to TMZ, a month away from their nine-year anniversary, Tamar filed for divorce yesterday in Los Angeles County. They have been married for nearly nine years but started dating in 2003. They also have a four-year-old, Logan Vincent.
For over a year, there have been rumors of martial issues. In August of 2016, police were called to an Atlanta hotel because Vincent allegedly bit Tamar. TMZ also reports Tamar recently moved out of their home. 
Ironically, season five of Tamar & Vince is supposed to air Thursday, November 9 at 9P/8C on WE tv.
We will keep you posted on any updates. Our thoughts go out to Tamar and her family during this difficult time. 
For more on Tamar, watch the BET Breaks above.