This Day in Black History: July 1, 1991
Clarence Thomas was nominated to the U.S. Supreme Court by President George H.W. Bush on July 1, 1991.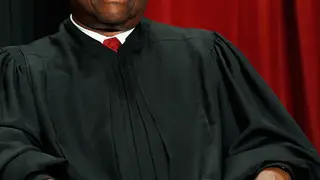 Thomas was critized for not having enough experience to sit on the High Court, but it wasn't until accusations of sexual harassment made by Anita Hill, one of Thomas' former aides, that his appointment was truly jeopardized. During Thomas' confirmation hearings, Hill testified that he made advances at her while they worked together at the Equal Employment Opportunity Commission in Washington. Despite the media attention surrounding Hill's testimony, Thomas was narrowly approved to the bench by a vote of 52-48 vote. Thomas officially took his seat on October 23, 1991. He is a staunch conservative who has ruled against cases involving abortion and affirmative action.

BET National News - Keep up to date with breaking news stories from around the nation, including headlines from the hip hop and entertainment world. Click here to subscribe to our newsletter. 
(Photo: Mark Wilson/Getty Images)