High Court Puts Off Start of Early Voting in Ohio
Supreme Court delays early voting by one week.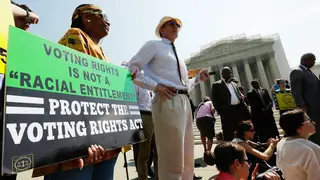 COLUMBUS, Ohio (AP) — A divided Supreme Court has put off the start of early voting in Ohio, which had been slated to begin Tuesday.
The justices' order by a 5-4 vote Monday granted a request from Ohio officials who wanted to delay a judge's ruling lengthening the swing state's early voting schedule.
Ohioans can vote absentee by mail or in person ahead of Election Day. Early voting will now start on Oct. 7, under a state law that was supported by Republican lawmakers.
Ohio's elections chief quickly reissued voting times following Monday's order from the high court.
The schedule from Republican Secretary of State Jon Husted scraps evening hours and an additional Sunday required by U.S. District Judge Peter Economus' decision. Ohioans will have two Saturdays and the Sunday prior to the Nov. 4 election to cast an early ballot.
Economus' ruling had moved the start of early voting to Tuesday and required Husted to set an expanded schedule. It came in a lawsuit over two election-related measures challenged by civil rights groups and others.
In a brief order, the high court put the judge's ruling on hold, at least until the justices can decide whether to hear the state's appeal. As a practical matter, though, the order ends the legal wrangling over the start of early voting this year.
The court's five conservatives, Chief Justice John Roberts and Justices Samuel Alito, Anthony Kennedy, Antonin Scalia and Clarence Thomas, voted to grant Ohio's request. The four liberals, Justices Stephen Breyer, Ruth Bader Ginsburg, Elena Kagan and Sonia Sotomayor, would have let early voting begin Tuesday.
Husted praised the Supreme Court's decision.
"Today's ruling validates what I have long said, elections in Ohio should be run by the same rules in every county and Ohioans should have the right to make those rules through their elected representatives," Husted said in a written statement.
The American Civil Liberties Union of Ohio filed the lawsuit in May on behalf of several black churches and the state's chapters of the NAACP and the League of Women Voters.
An attorney for the plaintiffs said the high court's last-minute ruling could cause confusion among voters.
"While not a final decision on the merits of the case, this is a real loss for Ohio voters, especially those who must use evenings, weekends and same-day voter registration to cast their ballot," Freda Levenson, ACLU of Ohio's legal director, said in a written statement.
The plaintiffs challenged Husted's directive that set uniform early voting times and restricted weekend and evening hours. They also want to overturn a GOP-backed state law eliminating so-called golden week, a time when people could both register to vote and cast ballots. Without those days, early voting would typically start 28 or 29 days before Election Day, instead of the prior 35-day window.
The plaintiffs claim the new rules will make it difficult for residents to vote and disproportionately affect low-income and black voters, who, the groups say, are more likely to use the weekend and evening hours to vote early in elections.
The state contends Ohio offers more opportunities to vote early than most states.
On Sept. 4, Economus sided with the plaintiffs' request for a preliminary injunction and said the measures were unconstitutional and in violation of the Voting Rights Act of 1965. The state is appealing to the full 6th U.S. Circuit Court of Appeals in Cincinnati.
BET Politics - Your source for the latest news, photos and videos illuminating key issues and personalities in African-American political life, plus commentary from some of our liveliest voices. Click here to subscribe to our newsletter. 
(Photo: Win McNamee/Getty Images)