The 'Black Panther: Wakanda Forever' Soundtrack Releases Official Tracklist
The tracklist includes E-40, Burna Boy, Future, and more.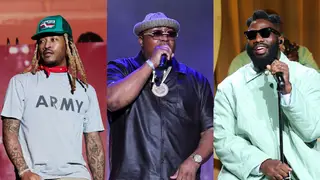 Black Panther: Wakanda Forever is hitting theaters next but fans won't have to wait too long for the soundtrack as the sequel's album is set to be released this Friday (Nov. 5) with a star-studded selection of musical talent including Future, E-40, and more.
"Ryan Coogler and I talked about the importance of creating an immersive journey of sound and voice," said co-producer Ludwig Göransson in a statement.
"If we used a song in the film, we wanted it to be the entire song and to be connected to the story. Thematically, we wanted to move the audience from grief to celebration. When you listen to the soundtrack, you can close your eyes and relive the experience of the movie. That was the intention."
Black Panther: Wakanda Forever appears in theaters on November 11.