Brent Faiyaz Cites Alicia Keys And Drake As His Musical Inspirations And How He 'Doesn't Think About' Being Called The 'Face Of Toxic R&B'
Faiyaz recently released his second album 'WASTELAND' on July 8th.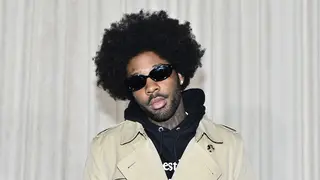 Brent Faiyaz opened up in his recent interview with Variety and shared Alicia Keys and Drake are amongst some of his musical inspirations.
"Every artist that worked on Wasteland was somebody that was part of the overall story," he shared.
"Alicia Keys made the first CD I ever bought. Drake's "Take Care" was a classic that inspired me when I first started making music. I got in with the album's executive producer [Jonathan "Freeze" Wells], and I started realizing that all the songs told a story. It had a narrative from beginning to end, so I didn't want to leave any songs out. Whether the single dropped a year ago or two years ago, it don't matter because I felt like I wanted to give that record a specific home, because it was a part of a story."
The R&B artist has been cited as the "face of toxic R&B" and shares how he doesn't pay attention to the criticism as everyone will have an opinion.
"Any opinions that somebody got on what I make, that's just how they perceive it," he expressed.
"During the process, I write what I write and make what I make. We have to drop it under some category, so we put it under R&B. I don't really be thinking about it like that."
His current album, Wasteland, is available for streaming and debuted at No.2 on the Billboard 200.
You can watch the music video from his recent single "Villain's Theme" below.