OPINION: No Matter How Bold The Voter Suppression In Texas, There's Too Much At Stake To Stay At Home
Poor, low-income and marginalized people have the most to lose on primary day.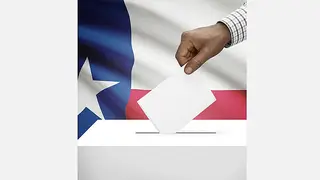 Today is Tuesday, March 1 and Texas will inaugurate the 2022 election cycle with the first elections of the year for governor, attorney general and several down ballot races. These will be the first elections held under the omnibus voter suppression law enacted last December. It will also be the first elections after more than 50 Texas legislators left the state to prevent that bill from passing.
In fact, it will be the first elections in the country after Republican senators, joined by Senators Joe Manchin and Kyrsten Sinema, blocked a rule change to lift the filibuster on voting rights and stalled President Joe Biden's Build Back Better agenda.
And it will be the first elections after the Poor People's Campaign: A National Call for Moral Revival led a Moral March for Democracy from Georgetown to Austin where people of all races,  faiths, and gender and sexual orientations brought the attacks on democracy in Texas to the national stage. Together, we saw the connection between these attacks and other attacks on the poor, low-wage workers, immigrants, women and others. And together, we began to feel the power of a fusion movement that was rooted in our common needs and the political potential of poor and low-income voters, who are most impacted on these multiple fronts.
To be sure, the voter suppression in Texas is intimately related to the high rates of poverty in the state and its changing demographics. Before the pandemic, over 40 percent of the state - or 12.6 million people - was poor or one emergency away from economic ruin - including 55 percent (4 million) children, 47% (6.6 million) women, 55% (1.8 million) Black people, 61% (6.4 million) Latino people and 31% (3.7 million) white people. Millions of these people are living paycheck to paycheck doing low-wage work, receiving only $7.25 an hour when they need at least $25 an hour to make a living. Many of them do not have access to healthcare, because the state refused to expand Medicaid, creating the largest coverage gap in the nation.
This same policy violence is present in the assaults on immigrants, women and trans people, all of which is facilitated and made possible through voter suppression and has been ongoing for years. Within hours after the Supreme Court gutted the Voting Rights Act in Shelby County v. Holder in 2013, Texas passed a controversial voter ID law that would make it harder for minority citizens to vote. The state also closed 750 polling places, most of them in counties with high populations of Black and Latino voters.
Despite these conditions, more than 4 million poor and low-income Texans – Black, Latino, white, Asian, and Native - turned out to vote in the presidential election in 2020, accounting for approximately one-third of the total votes in that contest. Although a Republican stronghold for more than 40 years, Texas came within a few percentage points of becoming a battleground state.
These numbers also challenge the misperception that poor and low-income voters do not participate in elections. Nationwide, early polls showed that about 55 percent of people with household incomes less than $50,000 voted for Biden and Harris.
In fact, alongside those 4 million poor and low-income voters in Texas, there were another 4 million eligible poor and low-income voters in the state who could be rallied to the polls if their needs were on the agenda. Indeed, among Texas' 8 million strong poor and low-income electorate, there is the basis to shift what is politically possible. This is why the voter suppression bill was enacted: to prevent these multi-racial, poor and low-income voters from becoming an organized electoral bloc advancing its common demands and concerns.
Forward together, not one step back!
---
Rev. Dr. William J. Barber II is president of Repairers of Breach, co-chair of the Poor People's Campaign: A National Call for Moral Revival and pastor of Greenleaf Christian Church (Disciples of Christ) in Goldsboro, North Carolina.
Shailly Gupta Barnes is the policy director of the Poor People's Campaign: A National Call for Moral Revival and the Kairos Center for Religions, Rights and Social Justice.