Voter Suppression 911: What To Do If You're Turned Away at the Polls
If you had problems with early voting or encounter issues on Election Day, here's how to avoid it all and make sure your vote actually counts.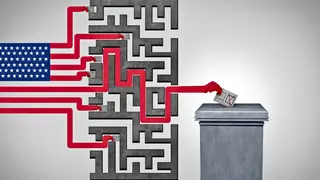 Today may be Election Day but voter advocates have had to navigate for weeks all the ways that voters have been challenged during early voting. A record number of requests for absentee ballots, due to the coronavirus pandemic, has presented complications, including a slew of new legal claims.
Add the fact that President Donald Trump suggests that absentee ballots are subject to mishaps and you have one big, chaotic, White House election season. This is bolstered by a starkly divided nation already wounded from a year of racial unease and political pandering. And it proves exactly how much is at stake with this election. 
Groups from the Election Protection Coalition, convened by the nonprofit Lawyers' Committee for Civil Rights Under Law, to social media giants Facebook and Twitter have jumped into the pool to educate voters, check registrations, answer questions, give advice and file lawsuits when necessary for those citizens, particularly people of color, who may feel they have somehow been stopped or prohibited from voting.
The Election Protection Coalition is coordinating 34,000 volunteer lawyers, up from their typical 5,000 to 6,000, to staff their hotline at 1-866-OUR-VOTE (866-687-8683) this year. It's made possible by the support received from dozens of civil rights organizations and advocacy groups to ensure that any citizen who wants to cast a ballot will be allowed to do so.
The service is apparently needed in a year where more Black voters are extremely engaged. The hotline has received more than 100,000 calls in the last few months compared to 48,000 calls over the entire election season in 2016, according to Damon Hewitt, executive vice president of the Lawyers' Committee.
Hewitt explained that the higher numbers are due to confusion about election procedures, concerns related to the coronavirus and worries over voter intimidation.
"Black voters are highly motivated to vote in this election," he said. "They understand the stakes for their families, their communities, and our democracy overall.  When faced with obstacles to the ballot, Black folks are doing what our community has always had to do – make a way to get it done."
As of Nov. 1, a little over 93 million people have cast ballots during early voting with nearly 60 million using mail in ballots to do so, according to the U.S. Elections Project, surpassing the 50 million who voted early in 2016. Of those voters, over 6 million young people voted early compared to 2 million four years ago, said Stephanie Young, chief officer of culture, communications and media partnerships for When We All Vote, a non-partisan nonprofit launched in 2018 by former First Lady Michelle Obama. 

"We have a more engaged electorate this time around. Everybody's anxious and ready to vote," said Young. "We're trying to ensure that voters understand the importance of going to vote early, stop mailing in but dropping them off. We've been drilling into them, make your plan to vote."

When We All Vote has been beating the drum about planning ahead using campaign videos like the one for Vote Loud speaking directly to young, first-time voters.
"What we're telling people right now is if your plan is to vote Nov. 3rd, you've got to plan to be on line, bring a snack, and bring a lawn chair. We have to be honest with voters. If we do not prepare people, that's when we have people saying, 'I couldn't take time off; I have to go get my kids; what is the ID that I need?'"
In terms of planning, Hewitt recommends that voters familiarize themselves with the contact information of local and state elections officials. They also should put themselves in the mindset that they will stand their ground no matter what issue they're facing. 
"The truth is if you stand in that line and then leave, you're not coming back — you'll have the kids, you'll have to work," he said. "We have been saying make your voting plan. Part of your voting plan has to be to have backup steps. The same goes for voter intimidation. Don't let them win."
Not so long ago outright violence was used to stop Black people from voting along with the more subtle tactics of literacy and property tests, grandfather clauses and poll taxes but new forms of voter intimidation still exists. Today, voters are dealing with long lines at polling places, ID issues, language barriers or employers who don't provide time off to vote. 
Here are six  common sense questions that may come up today and the advice you should follow to make sure your vote counts. 
Q: What IF I'VE RECEIVED PHONE CALLS WARNING ME AGAINST VOTING OR I'M WAITING TO VOTE IN PERSON AND A PASSING MOTORIST WARNS ME NOT TO VOTE?

A: There have been reports this election season of passing motorists attempting to intimidate voters who have been waiting on line to vote early. Even more egregious are the stories of voters who have received calls informing them that if they show up to vote, they'll be subject to arrest for old warrants, forced to face creditors or take the yet to be released coronavirus vaccine.

You should know that voter intimidation and harassment is a federal violation and might be a violation of your state's laws as well. If you experience this, do not back down. Inform a poll worker on the scene if you are at your precinct in-person then contact your local and state authorities and reach out to the Election Protection Hotline, Hewitt recommended. Make sure the incident is documented so that officials can follow up.

"There's a long and sorry history in this country of racialized voter oppression and intimidation," Hewitt told BET.com. "It's reared its ugly head in significant ways … and we expect the same on Election Day. The rhetoric that's come from the [White House] administration certainly invites that kind of thing."

If you receive a telephone call warning you to stay away from the polls, take down the number and share it with officials or the Election Protection hotline, Young advised. "If you do get a robocall that seems suspicious and crazy, let them [officials or hotline lawyers] know the number and they'll investigate," Young said.

Q: WHAT IF I ARRIVE AT THE PRECINCT BUT IT'S NOT OPEN OR IF I ARRIVE JUST BEFORE THE POLLS ARE ABOUT TO CLOSE AND I'M TOLD I CAN'T VOTE?

A: The advice in both of these situations is the same: do whatever you have to do to stay in line. In either situation, you have a right to cast a ballot whether the polls are opening late, or if they are about to close. The key is whether you were there when the polls were open or scheduled to be open. You just have to be prepared for these unexpected circumstances.

 "We have to think ahead and be prepared for every contingency: food, drink, rest rooms, childcare and jobs," said Hewitt.

Q: WHAT IF I'M REGISTERED TO VOTE, SHOW UP TO MY PRECINCT AND TOLD I'M NOT ON THE LIST?

A: Call the Election Protection hotline (866-OUR-VOTE) so they can verify that you are registered to vote. The lawyers staffing the hotline will advise you what to do next if they are able to verify your voter registration. In some places, you can sign a sworn statement that says you satisfy the qualifications to vote in your state and then cast a ballot. 

If this does not work, you can ask for a provisional ballot which holds your vote until the uncertainty around it is rectified. Election officials are required to offer you one. 

"You tell them, 'I registered to vote, I have every right to vote, I'd like a provisional ballot,'" Young advised.

Just be forewarned: This type of ballot will be verified by officials later, so there is always a chance that the information will not be able to be backed up and your ballot may not be counted. 

Q: WHAT IF I DID NOT REGISTER TO VOTE AND DECIDED AT THE LAST MINUTE THAT I'D LIKE TO CAST A BALLOT?

A:  If you suddenly decided to be a part of the solution, all is not lost. Some states will allow people to register on-site at their polling precinct. Contact your local or state elections office to find out if this is the case or, if you have the time, just show up to your polling site and ask a volunteer. The Election Protection hotline can help you with this too. 

When We All Vote has been addressing this situation by making robo calls in places like North Carolina, where same-day registration is allowed. According to Hewitt, this is around the time when the question of registration really becomes prominent but voters should be fully aware that  registration deadlines have closed in most places.

"There are people who are more recently motivated but don't realize they didn't check their registration status and younger people who didn't register at all," Hewitt said. "An adrenaline rush will hit this week."

Q: WHAT IF I MAKE A MISTAKE ON MY BALLOT?

A: If you make a mistake in person at your local voting precinct, simply inform one of the volunteers and ask for a new one. If you make a mistake on your absentee ballot, contact the Election Protection hotline.

The next step varies state by state, but in most places, you may bring the absentee ballot with the error to your local precinct and volunteers will tell you how to proceed. 

Q: WHAT DO I DO IF I'VE BEEN WAITING ON LINE TO VOTE SO LONG THAT I'M BOTH WEAK FROM HUNGER AND BORED OUT OF MY MIND?

A: You can actually go to polls.pizza/report to report long lines at your precinct and have free pizza delivered. Also, follow the example of voters in Philadelphia and other places and do the Cha Cha Slide with your neighbors.

What's most important out of all this advice is that you arm yourself with information and decide that you will not be deterred from voting.

"Our theory is this, an informed voter can't be a suppressed voter," said Young of When We All Vote. "The more informed you are, the more you are empowered to circumvent anything that comes your way."