5 Ways 'Martin' Leveled Up Hip Hop
As the beloved sitcom turns 30, we look at how it boosted the connection between hip hop and comedy.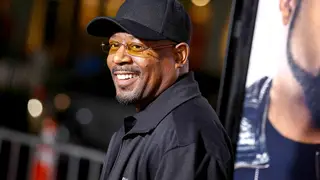 Martin is one of the most impactful sitcoms of the '90s, which is why we miss it and still discuss it now on the eve of its 30th anniversary.
There are a lot of things to discuss when it comes to Martin's impact, but one of the most important nuances is how it incorporated hip hop culture into its storytelling. The FOX series premiered in 1992, at a point in hip hop history when the genre was beginning to reach peak levels of worldwide success. However, despite the culture's popularity, you didn't see that many representations of it on primetime TV. 
Sure, Will Smith was the star of his own show, Fresh Prince of Bel-Air, by then, but he was the exception and not the rule.
Other than that, you may have only seen a cameo or two from a rapper here or there but Martin Lawrence was determined to showcase the connection between hip hop and Black comedy. Much like his fellow comedians Guy Torry and Robin Harris did with their inspired live nights that featured these two worlds impacting one another, Martin often had rappers appear on the show. Whether they were referenced in an episode's storyline or playing themselves like how Christopher "The Notorious B.I.G." Wallace or MC Hammer did — Martin helped push the concept of hip hop storytelling on primetime.
For that, television has never been the same, and thanks to Martin Lawrence and his "you so crazy" cohorts, here are five ways that Martin leveled up hip hop.
Having Rappers as Guests Period

Martin wasn't the first show to have guest appearances by rappers but what made it different was that rappers were more frequent of an occurrence than on other regular-degular sitcoms. From A-list stars like The Notorious B.I.G. to MC Hammer to hardcore rappers such as Method Man and Snoop Dogg, there were quite a few who appeared on the show as either themselves or characters caught up in the show's wacky situations. 

All nonetheless were game to play in Martin Lawrence's world and the culture benefitted greatly from it as a result of his creativity.

Pairing Hip Hop With Comedy

Hip hop is a diverse art form that often gets a bad rap — no pun intended. Martin showed that rappers weren't a monolith and if given a shot, not only could they act, but they could also be hilarious. 

The freestyle nature of hip hop pairs well with comedy.

Had Different Types of Rappers

Having rappers from different regions of the United States and across genres of hip hop was a big deal. The '90s was when hip hop started to get divided as rappers from outside of New York began to get more shine, and as more hardcore genres began to go mainstream people started to play favorites whether it was East Coast vs. West Coast or gangster vs. conscious. 

However, Martin Lawrence showed that love is love and that there was room for everyone.

Incorporated Hip Hop Nuances in Storytelling

The team behind Martin incorporated nods to hip hop in ways that were casual, beyond just guest appearances. In a 1995 episode titled, "Sophisticated Ladies," Gina and Pam almost lose a spot in a prestigious women's club to Shenehneh and Laquita (played by rapper Yo-Yo) because they didn't want to go with them to a Wu-Tang Clan concert, thinking that Sheneneh's invite was fake. 

The invite turned out to be real and the bougie group of women they wanted to join show that they weren't always uptight by going to the concert and sticking around to watch the sunset with the Wu. There's also an episode where Method Man makes a cameo as a burglar who breaks into Martin's apartment. 

The cameo is quick but memorable especially when Method Man spells out his burglar name and it's, you guessed it, "M-E-T-H-O-D Man."

Rappers Still Name-Drop the Show

Martin has influenced generations of rappers who were mostly born in the '80s and '90s. A-list rappers like Curren$y, J.Cole, T-Pain, and Lil Wayne are just a few who have made a reference to the show in their lyrics. Even the video for Big Sean's "Play No Games" pays tribute by looking exactly like an episode of Martin, credits included, with Tommy, Pam, and Gina look-alikes along for the ride.