Hundreds Of Howard University Hospital Workers Threaten To Strike Over Low Wages And Staffing Issues
'It really comes down to treating us with dignity and respect,' a nurse says.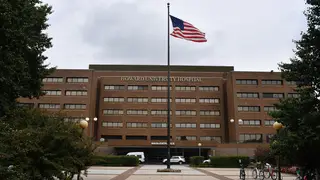 The labor union that represents more than 300 workers at Howard University Hospital (HUH) notified Howard University President Dr. Wayne A. I. Frederick and the hospital's CEO Anita Jenkins that they've organized a one-day strike for April 11 at 7:30 a.m. over complaints of low wages and staffing.
At issue are "cuts to shift differentials that will reduce nurses, pharmacists, dietitians and social workers' compensation and negatively affect retention at the hospital," a statement from the District of Columbia Nurses Association (DCNA) said.
DCNA also noted that the hospital has been understaffed throughout the pandemic. They're urging hospital management to return to the negotiation table.
"It really comes down to treating us with dignity and respect. They are understaffing in the hospital, and they are taking from us as costs continue to rise," said Howard University Hospital RN Jeanette Ethridge. "Allowing us to maintain our financial dignity reflects respect. Providing enough staff so we can care for our patients the way they deserve to be cared for reflects respect."
"Management walked away from the bargaining table despite our efforts to convince them that there were still a number of issues that needed to be negotiated," the union's executive director Edward Smith told DCist/WAMU, adding that he hopes to avoid a walkout.
"Because they are refusing to come back to the bargaining table, we really have no choice but to call for a one-day strike."
The university says management has made every effort to close a deal on a new contract, including five mediation days and more than 20 bargaining sessions, the news outlet reported.
"While we are deeply disappointed that the Union has made this decision, we are taking all necessary steps to ensure that, during the one-day strike, our patients continue to receive the same high-quality care in a safe environment that they expect and deserve," said a Howard University spokesperson according to DCist/WAMU.
Howard University Hospital implemented its final proposal to the union, which includes hourly wage increases averaging 9.8 percent. The spokesperson also said the university rejected the claim that the hospital is understaffed.
The threat of a strike comes just weeks after Howard University averted a three-day walkout organized by the union that represents the university's adjunct professors. Before the breakthrough, negotiations reached an impasse over complaints about low wages and job insecurity.